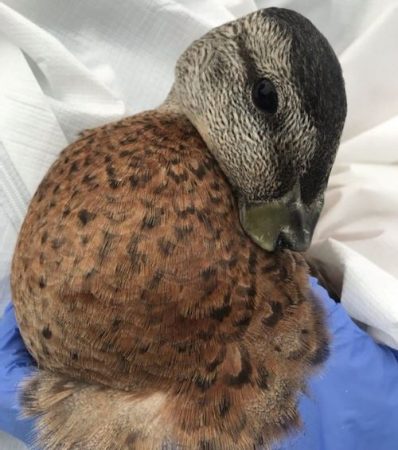 Since July 31st, two Mallards have been brought into the Wetlands & Wildlife Care Center with the same dramatic and heart wrenching injury. Both ducks had their bills severed. They were still alive and suffering from starvation due to their inability to eat and were euthanized due to the severity of their wounds. We are asking the public for any information that may lead to the person(s) who is doing this atrocious act.
These birds were found by Mile Square Park in Fountain Valley. The first one was brought to us on Sunday, July 31st and the second one was brought to us on Saturday, August 13th. The graphic pictures attached tell each duck's sad story and reveal the unfortunate reality that there are some in our community capable of horrific acts.
If you witness a crime or animal abuse that is actively occurring, please call 911. You can also call CalTip at 888-334-2258. If an injured duck is found, or you have any details regarding these incidents, please call OC Animal Care at 714-935-6848.
The Wetlands & Wildlife Care Center is there for our community and the native wildlife that resides within. Our dedicated staff and volunteers are prepared to help recover and care for all injured wildlife. The Wetlands and Wildlife Care Center is a 501c3 Non-Profit organization dedicated to the rescue, rehabilitation, and release of our native wildlife. We rely on your generous donations to stay open. Please visit our website at www.wwccoc.org for further information on how you can help us.