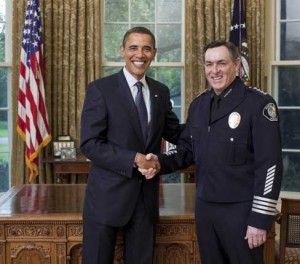 Loading ...
We broke the story that the Santa Ana City Council suspended the search for a new City Manager, and today the O.C. Register followed up with a new article indicating that SAPD Police Chief Paul Walters, who has been serving as the Interim Santa Ana City Manager, now wants to be considered as an applicant for the job on a permanent basis.
Santa Ana Council Member Michele Martinez told the Register that more than fifty candidates have applied for the City Manager job.  That is not surprising.  Santa Ana is the Orange County seat and the city has a lot going for it.
I don't know who all those candidates are but I would imagine that Santa Ana Parks and Recreation Agency Director Gerardo Mouet and perhaps Santa Ana Public Works Director Raul Godinez II are among them.  Either one of them would be a fine City Manager.
But what about Walters?
Some civil Libertarians in town don't like him, but he has had no choice with regard to enforcing the law with regard to drugs.  That is his job as Chief of Police.
Walters did a great job building our SAPD headquarters and the City Jail a few years ago.  He is a whiz at doing a lot with very little, as far as budgets to.  He has great connections in D.C. – in fact he received an award from President Barack Obama.
But Walters has never been a City Manager before – and that is something that will weigh heavily on the Santa Ana Council Members.  Many of them are close to Walters, particularly Mayor Miguel Pulido, Mayor Pro Tem Claudia Alvarez and Council Member Carlos Bustamante.  Technically they would only need one more vote to give the City Manager job to Walters.
Would that be the end of the world?  Probably not.  I don't think Walters would keep the job for too long – five years at most in my opinion.
What do you think?  Be sure to vote in the poll above – please weigh in and use the comments to let us know who you think our next City Manager should be.