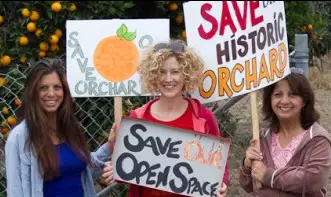 The activists at "Save the Sexlinger Orchard" are holding another demonstration,  on Saturday, June 25, 2011, from 11AM- 3PM.
They ask that our readers stop by for 30 minutes or an hour and help them share the message — "NO" to another housing development and "YES" to an Urban Agriculture Center – the first of this kind and scale in the city of Santa Ana. They say that your support is critical to the cause.
For more information about the orchard and how you can help, please visit : www.saveourorchard.org, and like them on Facebook : www.facebook.com/saveourorchard.