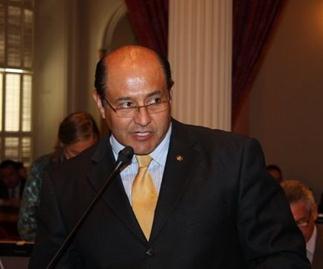 Lou Correa, Senator,­­­­­­­­­­­­­­­ 34th Senate District
NEWS RELEASE, FOR IMMEDIATE RELEASE: June 22, 2011
Contact: Darren Chesin , (916) 651-4106
Correa Bill Prohibits Lavish Gifts from Lobbying Groups
FROM ARCHIVE: California State Senator Lou Correa delivering remarks during Senate Floor session.
SACRAMENTO, CA – Senator Lou Correa, Chair of the Senate Committee on Elections and Constitutional Amendments, announced today he is authoring legislation to prohibit state officeholders and their families from accepting lavish gifts like vacations, pro sports tickets, and golf outings from lobbyists and their clients.
The measure, Senate Bill 50 (SB 50), would specifically prohibit elected state officers and members of their immediate families from accepting all of the following gifts from lobbyists, lobbying firms, and lobbyist employers:
· Theme park and amusement park tickets.
· Professional sporting event tickets.
· Collegiate or other amateur sporting event tickets with a face value exceeding $25 per ticket.
· Theater, concert, and other entertainment tickets with a face value exceeding $25 per ticket.
· Racetrack tickets.
· Spa treatments and other beauty or cosmetic services.
· Golf, skiing, hunting trips, fishing trips, and other recreational outings or vacations.
· Gift cards.
Correa's bill, jointly authored by Republican Senator Sam Blakeslee, will be heard in the Assembly Committee on Elections and Redistricting on July 5, 2011. SB 50 builds upon prior concepts explored by Senator Blakeslee in previous legislation.
Senator Lou Correa represents the 34th District, which includes the cities of Anaheim, Buena Park, Fullerton, Garden Grove, Santa Ana, Stanton and Westminster. ###
Lina Hamilton, Legislative Aide
Office of the Honorable Lou Correa
34th Senate District
(916) 651-4034