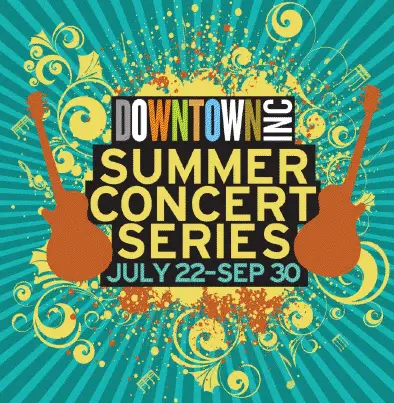 For Immediate Release:
Summer Concert Series Introduction Mixer

June 23, 2011 6:30pm-8:00pm
The Copper Door
225 ½ N. Broadway, Santa Ana, CA 92701
Downtown Inc. is having a mixer and reception to introduce Santa Ana's first Summer Concert Series.  Downtown Santa Ana merchants, Summer Concert Series musicians and potential sponsors will mix and mingle while "The Budrows", local indie-rock band, entertain. Summer Concert Series Producer, Archer Altstaetter, will present everyone with the highlights of what Friday evenings in Santa Ana will offer. The Copper Door is hosting the mixer with Chapter One, The Crosby, Las Brisas #2, Original Mike's, Memphis, Bistro 400 and several other Downtown restaurants providing a fantastic spread of food. The Copper Door's fantastic selection of beers will be available for purchase.
"10 weeks of outdoor concerts with 48 bands and entertainers, interactive action games, The Kid's Corner and a beer and wine garden!" was Archer's excited response when asked for details.
Downtown Inc's Summer Concert Mixer begins at 6:30 and is open to everyone and attendance is free. The Copper Door is located at 225 ½ N. Broadway, Santa Ana 92701. R.S.V.P. to Admin@Downtown-Inc.com or call Downtown Inc at 714-547-6100. Admission is free.  Click here to download the event flier.
Downtown Inc. tendrá una recepción para presentar la primera serie de conciertos de verano en Santa Ana. Comerciantes de la ciudad de Santa Ana, músicos y potenciales patrocinadores se reunirán mientras, "The Budrows", banda local de indie rock, amenizara el convivio. El productor de la serie de conciertos, Archer Altstaetter, presentará a todos los participantes lo que ofrecerá los viernes por la noche en Santa Ana. La Copper Door está proporcionando el lugar y habrá bocadillos patrocinados por Chapter One , The Crosby, Las Brisas # 2, Original Mike 's, Memphis, Bistró 400 y varios otros restaurantes locales.
Habrá gran variedad de cervezas disponible para su compra en the Copper Door. "10 semanas de conciertos al aire libre con 48 bandas y artistas, interactivos juegos de acción , esquina de niños y un jardín de cerveza y vino!" fue la respuesta emocionada por Archer cuando se le preguntó por más detalles.
La reunión del concierto de veranos por Downtown Inc comienza a las 6: 30 p.m. y está abierto a todos y la asistencia es gratuita. The Copper Door se encuentra en 225 ½ N. Broadway, Santa Ana 92701. R.S.V.P. a Admin@Downtown-Inc.com o llame al Downtown Inc al 714-547-6100. La entrada es gratuita.