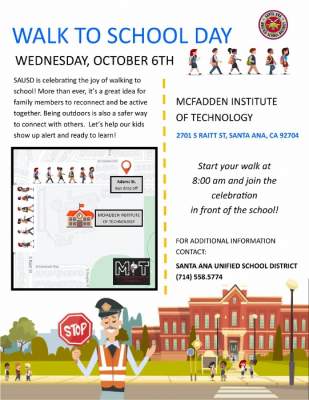 The Annual International Walk to School Day will be held on Wednesday, October 6, 2021. To celebrate, the Santa Ana Unified School District (SAUSD) is holding a walk culminating in a special ceremony at McFadden Institute of Technology (MIT). Students, parents, school district leaders, community members and Segerstrom High School's Drumline band will walk together from the two corners around the campus to the school, where a Walk to School Day assembly will be held.
300 walkers are expected. Partners include the OC Health Care Agency, Santa Ana Public Works Agency, Santa Ana Police Department, the SAUSD Police Department, SAUSD's Nutrition Services, and Segerstrom High School Drumline.
When: Wednesday, October 6, 2021. Neighborhood walk begins at 8:00 a.m. at the corner of Adams and Raitt streets. Participants arrive at MIT at 7:50 a.m. School ceremony runs from 8:20 a.m. to 8:35 a.m. at the McFadden amphitheater.
Where: McFadden Institute of Technology, 2701 S. Raitt St. Santa Ana, CA 92704
Agenda:
7:45 a.m. to 8:10 a.m. – Segerstrom High School Drumline performs during the walk with the group starting at the Adams St. drop off just east of Raitt St.
8 a.m. – Students walk to the elementary entrance and take photos with the Cone Guys and Officer McGruff, and Star Wars Characters.
8:15 a.m. – School assembly begins with student reciting Pledge of Allegiance.
8:20 a.m. – Cone Guys perform demonstration during school assembly.