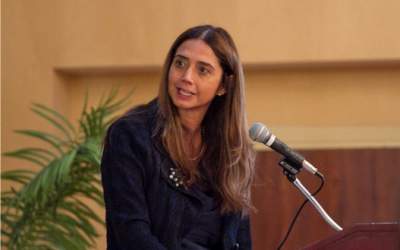 Embattled SAUSD Superintendent Thelma Meléndez de Santa Ana recently lost the support of the Santa Ana Educators' Association, the union that represents our teachers.  Sources said the School Board was about to call her on the mat.  She has apparently decided to run for the hills, as the SAUSD announced her retirement in a press release distributed last night.  (See it below).  Kudos to SAEA President Susan Mercer – she won this war.
I was hoping she would make a difference but instead she weakened school discipline, hurt our fundamental schools, made a mess of food service, hired too many consultants, and failed to crack the SAUSD's entrenched bureaucracy.  Adios Thelma.  Enjoy your huge pension…  We can but hope that the next Superintendent will be an improvement.
Here is the SAUSD's press release, which as you might expect is quite sugarcoated:
SAUSD Superintendent to retire after 30 years in education
Thelma Meléndez de Santa Ana will retire in July to be closer to her family
Praises board, district teachers, and administrators for strong progress at SAUSD
April 23, 2013 – After 30 years as an educator, Santa Ana Unified School District Superintendent Thelma Meléndez de Santa Ana, Ph.D. has announced that she is retiring. Dr. Meléndez, whose career spans from classroom teacher to a top national educator advisor to the President of the United States, led California's sixth largest school district for nearly two years. Her decision to retire has been spurred by a desire to spend more time daily with her family who continued to reside in Los Angeles County while she lived in Orange County for the nearly last two years while serving the district.
The former Assistant Secretary for Elementary and Secondary Education in the Obama Administration's Department of Education and former superintendent of Pomona Unified Schools said that retiring was a difficult professional decision to make, but it was the right personal decision. "With my husband continuing to teach at UCLA, and my parents advancing in age in Montebello, I believe that now is the right time to reprioritize my time, efforts and energy. The distance between all of us has become burdensome. I am tremendously proud of all of our accomplishments in the Santa Ana Unified School District over the past two years — the School Board, our great teachers, staff, and administrators, and the
leadership team has worked diligently and collaboratively in making critical inroads. It has been a rewarding two years, and I have been honored to serve as superintendent," said Dr. Meléndez.
Dr. Meléndez, with the vision and leadership of the School Board and the entire SAUSD community, has worked to increase the academic rigor in all SAUSD schools with the implementation of the Common Core State Standards which has given the District national and state recognition. Efforts to improve the District's school attendance and reduce student dropouts were recently recognized as a model to other districts by the California Department of Education. Increasing parental and community engagement for the success of students has been a major focus during Dr. Melendez's tenure.
"Although we are disappointed, we certainly understand that her family comes first and want to thank Dr. Meléndez for her leadership and wish her a happy and joyous retirement," said José Alfredo Hernández, J.D., President of the Santa Ana Unified School District Board of Education. "She has ensured that Santa Ana Unified has a seat at the table in statewide policymaking and that has given our District a greater voice in Sacramento."
"We are initiating a process to identify a new Superintendent and will focus on selecting someone who will continue to improve the learning environment for our students," added Hernández. Dr. Meléndez will continue to serve the Santa Ana Unified School District while the Board initiates a recruitment process for her successor. Her retirement will become official in late summer. "Our efforts will be focused on ensuring a smooth transition for everyone involved across the District."
For additional information, please contact Deidra Powell, Chief Communications Officer at (714) 558-5555 or at deidra.powell@sausd.us.
###