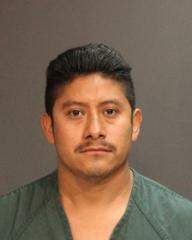 Santa Ana Police Department Advisory: Attempt kidnapping of 15 yo student on way to school one suspect in custody second suspect and vehicle outstanding
On 4/24/2013, at 8:24am, a 15-year-old girl was walking to Valley High School in the area of 1250 S. Sullivan. As she walked past a small red compact vehicle that was parked on the street, a male Hispanic, later identified as suspect Moises Rendon (28), Santa Ana, suddenly jumped out of the passenger seat wearing gloves and holding a rag in one hand. The suspect ran toward victim and attempted to grab her. The girl was able to escape and ran. The suspect then re-entered the vehicle, which was subsequently driven out of the area by the other male occupant.
The incident was immediately reported by witnesses who described the vehicle and suspect. Officers arrived at the scene and learned the suspect may reside at the residence in the 1400 block S. Sullivan. Officers responded to the location and made contact with a possible suspect. A field show-up with the victim and a witness resulted in positive identification of the suspect Moises Rendon. The driver and suspect vehicle is still outstanding. The suspect vehicle is described as a red Toyota Corolla with a spoiler on the rear trunk. Suspect Rendon will be booked into the Santa Ana Police Department Jail for Attempt Kidnap.
Anyone with information is asked to call Orange County Crime Stoppers 1-855-TIP-OCCS.
For full details, view this message on the web.