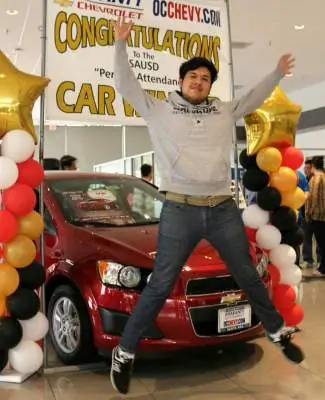 Santa Ana High School Student Wins a New Car for Attending School Each and Every Day
When Fernando Castaneda, an 11th grader at Santa Ana High School, woke up early on Saturday, June 6, 2015, to participate in the Perfect Attendance Car Giveaway, he thought it was a slim chance that he would actually be the winner of a brand new 2015 Chevy Sonic, courtesy of Bruce Hamlin, Owner of Guaranty Chevrolet.
Fernando CastanedaFernando was one of 747 Santa Ana Unified School District high school students eligible to be entered into a drawing for having perfect attendance all year long. "There were times when I didn't want to go to school because I was tired and sick, but I wanted to make my mom and dad proud, so I went," said Fernando.
Each year, Bruce Hamlin makes a student's dream come true by awarding him or her with a new car for their commitment and dedication to attending school each and every day. "The main reason we do this is to help the community. The more students that attend classes daily, the more educated the student becomes. Those are the people that become good citizens and therefore help the community. I feel it's beholden on the businesses in each community to help keep our communities strong and safe," said Hamlin.
To get the crowd warmed up for the grand prize, approximately 10 door prizes were awarded to students. When it came time for the grand prize, five names were drawn. Each of the five students grabbed a key from a table and stood by one of the five cars. On the count of three, each student attempted to turn the ignition on with the key they had selected, but only one would start. "The look on the student's face when they win the car is priceless. There is no better feeling than helping someone and giving them an opportunity to improve their lives," said Hamlin.
When asked what he plans to do with the car, Fernando stated, "It's going to help my family because we need a new car, so I'm going to give it to my Dad. Hopefully, I can get it back when I get my driver's license."
Although Fernando won the grand prize, the other four students also had something to celebrate. They each received $100 from Mr. Hamlin.
Video
https://vimeo.com/sausdtv/review/130163250/bf2a3e70f9
###
***The Santa Ana Unified School District has authorized the publication and broadcasting of the following article, video and photograph courtesy of the Santa Ana Unified School District.
###