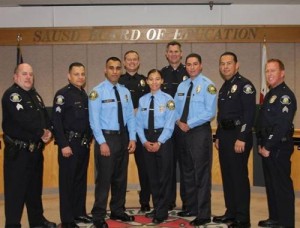 Santa Ana Unified School District
FOR IMMEDIATE RELEASE, MEDIA ADVISORY
SAUSD Police Department Launches "OC Campus Crime Stoppers"
SANTA ANA, CA – August 30, 2013 – The Santa Ana Unified School District Police Department continues to be a leader in school safety by becoming the only school district in Orange County to join a cadre of other police departments as part of a new component of the Orange County Crime Stoppers, an organization aimed to promote community safety through awareness and an anonymous public crime tip line. In partnership and collaboration with OC Crime Stoppers and Crime Survivors Inc., the Santa Ana School Police Department has launched "Orange County CAMPUS Crime Stoppers" within the school district that serves over 57,000 students, the largest in Orange County.
"This program leverages an already highly effective and successful anonymous crime tip line framework that has directly led to the resolution of and prevention of various crimes in Orange County. School safety is amongst the highest of priorities for our school district and the Santa Ana community, and we believe this awareness campaign will further enhance law enforcement's ability to prevent, respond and recover from crimes that may be committed on or with a connection to our school campuses," said SAUSD Chief David Valentin.
To promote awareness of this great program to the Santa Ana community, the district police Department will hold school assemblies, rallies, and distribute popular items that will display the anonymous crime tip line for quick referencing. The kick off rally will be held Wednesday, September 4, 2013 @ 10:00 a.m. at McFadden Intermediate School, located at 2701 S. Raitt Street, Santa Ana. The media is invited to attend the rally and press conference scheduled immediately following the rally where OC Crime Stoppers Founder Chief Executive Officer Patricia Wenskunas and Police Chief David Valentin will address their partnership and commitment to school safety. "Across the nation and beyond we have witnessed the vulnerable nature of our school campuses. This partnership is a focused, diligent effort to maximize safety for our students, their families and staff," said Valentin.
Event: OC Campus Crime Stoppers Rally and Press Conference
Who: Santa Ana Unified School District Police Department
When: Wednesday, September 4, 2013 @ 10:00 a.m.
Where: McFadden Intermediate School
2701 S. Raitt Street, Santa Ana, CA 92704
Photo Ops: McFadden students excited and engaged at rally and receiving promotional materials with the OC Campus Crime Stoppers information and interviews with Chief David Valentin of the SAUSD Police Department, Patricia Wenskunas CEO and Founder of OC Crime Stoppers, and students.
###
Media Contact: Deidra Powell, Chief Communications Officer of SAUSD @ (714) 558-5555 or (714) 673-4995