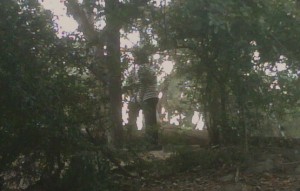 Nine of these guys were arrested by the SAPD this week at Santiago Park
I met today with Santa Ana Chief of Police Paul Walters and two of his police officers, from the SAPD.  One of them, Hank Couisine, is a Special Investigator.  The other works in Vice Squad. 
We met to discuss the ongoing problems at Santa Ana's Santiago Park with regard to men who go there to lurk and to engage in lewd acts.
My recent post about this situation triggered a lot of action at Santa Ana's City Hall.  Walters asked the Santa Ana Parks and Recreation Department to clean up the brush at the park, to give these creeps less places to hide.  They did so once and are planning another clean-up soon.
Walters also sent in the troops.  In fact they arrested nine men just yesterday, just after dusk!  They employed decoys very effectively.  We wrote about that tactic previously as well.  Click here to read that post.
Walters noted that his department uses software to collect crime data and then they focus their crimefighting areas on hot spots in the city.  Santiago Park is the only park with substantial lewd conduct problems.
Walters and his staff mentioned during our meeting that many of the men that they arrest are married!  And the ages vary from 25 to guys in their sixties. 
Some of these guys just come to the park to hook up, then take their finds outside of the park, to hotels and perhaps even their homes.  Those men cannot be arrested as they are not conducting lewd conducct, as per the law.
So how can we take back our park?
Some of the ideas I recommended to Walters and his staff included:
Installing security cameras along the northern bike trail at Santiago Park.  There is software available that can be programmed to spot unusual behavior, such as a man standing still for several minutes.  That way the cameras could be monitored with less effort.
Install signs in the park informing the public that lewd conduct is illegal in Santa Ana and citing the specific city code.
Installing lights with motion detectors on the bike trail and in select areas, such as under the bridges.  A lot of these perps show up after dark.  The lights would spook them and the motion dectors could be programmed to send a signal to the SAPD, notifying them of activity after the park curfew.
We also talked about putting up signs that would ask residents to call the police if they see any criminal activity.  The signs would be in Spanish and English and would include the SAPD's phone number.
And I was asked if we would be interested in posting pictures of these men arrested for lewd conduct here on our blog.  You bet!  We would love to inform the public about these guys. 
So how can we pay for all the new technology we need to defeat the perverts?  The answer may lie in federal grants.  We can apply for a CDBG HUD grant to pay for all of this new technology. 
We also need to inform all residents about the problem and ask them to be part of the solution by calling the police when they see lewd conduct at our parks.
Please contact your Council Member and ask them to support these ideas and to help us take back our parks!  Click here to contact the Santa Ana City Council.  Click here to contact Councilman Carlos Bustamante, who represents the Santiago Park area.  You can contact City Manager Dave Ream's assistant, Mark Lawrence, at MLawrence@santa-ana.org.
What might happen if we do nothing?
"Citrus Heights police are looking for an 18-year-old man in connection with the death of a 17-year-old girl whose body was found in a park this morning," according to today's Sacramento Bee. 
Do we really want to wait for something like that to happen in Santa Ana?  I hope not!
In the next few weeks I will be accompanying the SAPD on an actual sweep of Santiago Park.  We will be reporting about our findings here on our Santa Ana blog.
Thank you to Chief Walters and his excellent staff for their hard work and dedication to the people of our city!  Let's hope our Council Members wake up and realize that we need to do more before someone gets hurt.