Santa Ana Police Department
Advisory: SAPD Robbery Detectives request media and Public assistance identifying suspect in armed robbery
Location: Auto Zone, 810 S. Harbor Boulevard
Suspect: Male, Hispanic, 28-38 yrs. old, 5'6"-5'8" tall, 150-170 lbs., black mustache, tattoos on arms and legs; wearing black baseball hat with white logo, sunglasses, white/brown checkered shirt, black sleeve on left arm, beige shorts, white sneakers; and carrying small dark blue-colored bag
Suspect Vehicle: Silver 2002-2007 Mitsubishi SUV 4-door
Weapon: Black semi-automatic handgun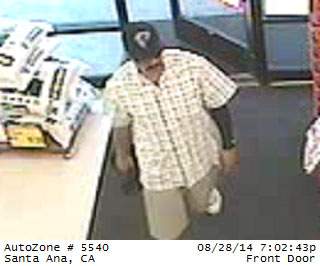 Synopsis: On 08/28/2014, at approximately 7 PM, the pictured suspect entered the Auto Zone store located at 810 S. Harbor Boulevard, demanded cash from an employee at the checkout register, and brandished a black semi-automatic handgun. The suspect then reached over the counter and took the cash register drawer containing US currency. The suspect fled in a silver Mitsubishi SUV driven by another male southbound on Harbor Boulevard.
YouTube Video Link: https://www.youtube.com/watch?v=Fd8KeGhbdrI&feature=youtu.be
Please forward any information to: Det. P. McClaskey 714-245-8328 or Orange County Crime Stoppers 1-855-TIP-OCCS.
###