Santa Ana Police Department
Advisory: SAPD Detectives Request Media and Public's Assistance In Identifying Suspect Wanted In Armed Robbery of Gas Station
Suspect: Male White or Hispanic, 21-25 years old, black hair, medium build, 5' 7" -5' 9" tall, wearing dark sunglasses, white t-shirt, dark colored shorts and blue athletic shoes
Synopsis: On 10/13/2016 at 6:50 a.m., the suspect enters the 76 gas station and demands that the victim give him money from the cash register. After the victim refuses, the suspect begins to yell, "Give me the money, bitch!" then jumps over the display table while waving a black knife at her. The suspect chases the victim out of the business through a rear exit then returns. He physically rips the cash deposit box/till from the table, enters a newer model Kia Forte and flees the scene.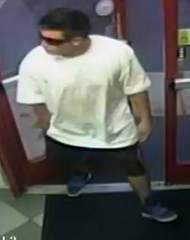 Loss was U.S. currency and the deposit box. The vehicle was possibly a charcoal gray 4-door Kia Forte.
Anyone with information on the identity of this suspect is asked to contact Detective A. Garcia #3233 at 714-245-8408 or email agarcia3@santa-ana.org or Orange County Crime Stoppers at 1-855-TIP-OCCS.