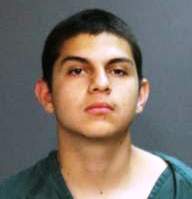 Santa Ana Police Department Advisory: Police arrest suspect in Stabbing/Carjacking
Mon, 1/20/14 10 PM, SAPD officers responded to 3900 W. Hazard, reference a report of a subject who had been stabbed multiple times. Upon their arrival, officers learned the victim (M/H/42) was seated in the driver's seat of his parked vehicle when the suspect (Osvaldo Vallejo -18) entered the passenger's side and began to physically assault and stab him.
The victim was able to flee on foot and call 911. After the victim fled on foot, the suspect stole the victim's vehicle a 2001 Honda Civic, white in color. The victim sustained multiple stab wounds to his neck and upper torso. He was transported to UCI with non-life threatening injuries.
At approximately 1040 PM, an officer on patrol located the victim's vehicle, conducted a traffic stop and the suspect, Osvaldo Vallejo was taken into custody without incident. Vallejo was booked into the SAPD Jail for:
 CPC 215 – Carjacking
CPC 245 – Assault with a deadly weapon
CPC 203 – Mayhem
CVC 10851 (a) Taking vehicle without owner's consent
###