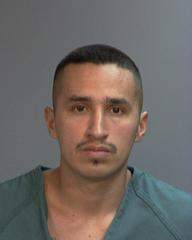 Arrested: Joseph Avila Isais (35), Santa Ana
Santa Ana Police Department Advisory: Santa Ana Police Detectives arrest Wanted Robbery Suspect after receiving tip from Orange County Crime Stopper
The Police Department was contacted by OC Crime Stoppers with a tip that the suspect wanted in the January 11th , 2013, robbery of the Radio Shack 2020 East 17TH Street, suspect Joseph Avila Isais (35) was hiding from police in a residence located in the 3500 block of West Pine Street.
On February 28, 2013, Robbery Detectives responded to the location and were able to take suspect into custody without incident. The suspect was booked into the SAPD Jail for Robbery.
Crime Details: On January 11, 2013, at approximately 1200 hours, suspect Isais entered the Radio Shack store located at 2020 East 17th Street, Santa Ana, committing the robbery simulating a weapon. Detectives were able to identify Isais as the suspect and a warrant was issued for his arrest.
###
Address/Location
Santa Ana Police Department
60 Civic Center Plaza
Santa Ana, CA 92701