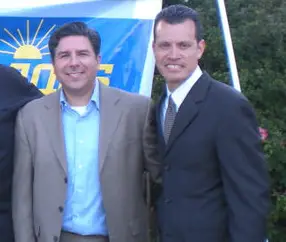 There is so much going on today in Santa Ana that I chose to report it all in our infamous Political Chismes format, rather than post several articles.  Here we go!
Bad news for Busty.  Today was a bad day for former Santa Ana City Councilman Carlos Bustamante, as a "judge refused to dismiss a number of felony sex crime charges against him," according to the

O.C. Register

.  Bustamante is accused of sexually assaulting seven women he worked with in his former job in the county's Public Works Department. The judge also denied a motion to have the Orange County District Attorney's Office taken off the case.  Bustamante worked to elect his former colleague, David Benavides, in last year's Santa Ana Mayoral race.  Luckily Santa Ana Mayor Miguel Pulido prevailed.  Will Benavides commisserate with Bustamante tonight?  Stop by Chapter One, in Downtown Santa Ana, and see if they show up.  Be sure to send us any pictures you get of these two tossing them down!
Thank you Paul Walters! You can say goodbye and thank you to former Santa Ana City Manager Paul Walters, at tonight's (Feb. 28) meeting of Santa Ana's Communication Linkage Forum, the city-subsidized organization of neighborhood associations, at 7 pm.  Their guest speaker is police operations Commander Ken Gominsky, a great guy, and Com Link will make a special recognition of Paul M. Walters, the city's former police chief and city manager. Show up early at 6:30 p.m. for networking and free snacks, and then stay for the presentations beginning at 7 p.m. The event takes place in the Police Community Room, 60 Civic Center Plaza.
Saint O'Rourke?  New Santa Ana interim City Manager Kevin O'Rourke was once studying to be a priest, according to the

O.C. Register

.  He says he wants transparency but he also said our City Council has a great reputation.  Say what?  What is becoming transparent is that this guy knows how to kiss up to his new bosses, who are paying him a fortune, over $22k per month.  That is more than most of our residents make in a year!
Playground Bully? A restaurant critic at the

O.C. Register

praised some of the food at The Playground, the allegedly gourmet restaurant in Downtown Santa Ana that is allegedly expanding and pushing a Mexican bakery out in the process.  But the critic called the Playground's chef a bully – because he won't let you change your order at all.  You can't even order cream and sugar for your coffee!  Priceless.  Click here to read about the Playground's health inspection record, which is no bueno as well.  We need letter grade health ratings for our restaurants in Orange County!
Is Rob in charge of appointments too?  I asked yesterday if Santa Ana Council Woman Angelica Amezcua is being controlled by her husband, Rob Oliver.  Today I found out that she appointed

Joel Crespo

, a lawyer who works at a firm that her hubby Rob used to work at, AlvaradoSmith, to the Santa Ana Planning Commission.  Amezcua also appointed Crespo's mom to the Santa Ana Historic Resources Commission.  Is Rob making Amezcua's Commission appointments?  And is this a conflict of interest?  AlvaradoSmith has a

public and municipal law practice

– in fact they work for the SAUSD.  Won't that cause conflicts for Crespo, as a Santa Ana Planning Commissioner?  Bad move.
Revenge at the SAPD? The guys who took over the Santa Ana Police Department, including new Chief of Police Carlos Rojas, after Paul Walters left couldn't wait to get back at him.  In fact they didn't wait long.  They reporetdly demoted his longtime secretary, Loretta Tafoya, in the past week, after 25 years of loyal service to the SAPD.  I got news today that she resigned in the wake of the uncalled for demotion.  Thank you Loretta for all of your faithful service to our city!  Rojas and company also seized Walter's uniforms.  Word has it that Rojas in particular wants to undo Walter's many accomplishments.  Could Rojas be in cahoots with Santa Ana Council Woman Michele Martinez, who is still mad that her half brother was arrested for a parole violation, back when she was in the midst of her failed campaign for Mayor?