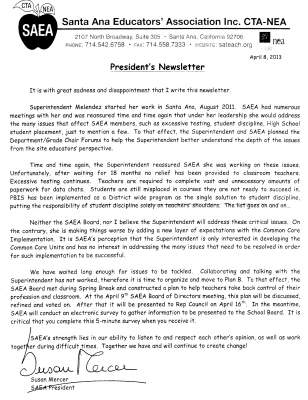 The Santa Ana Educators' Association's President, Susan Mercer, has had enough.  She distributed a stark letter to her members, who are the teachers at the Santa Ana Unified School District, yesterday, announcing that "we have waited long enough for issues to be tackled."
Here are a few excerpts from Mercer's letter:
Superintendent Melendez started her work in Santa Ana, August 2011.  SAEA had numerous meetings with her and was reassured time and again that under her leadership she would address the many issues that affect SAEA members, such as excessive testing, student discipline, High School student placement, just to mention a few.

Unfortunately after 18 months no relieve has been provided to classroom teachers.  Excessive testing continues.  Teachers are required to complete vast and 

unnecessary

 amounts of  paperwork for data charts. Students are still misplaced in courses they are not ready to succeed in.  PBIS has been implemented as a District wide program as the single solution to student discipline, putting the responsibility of student discipline solely on teachers' shoulders. The list goes on and on.

Neither the SAEA Board, nor I believe the Superintendent will address these critical issues.  On the contrary, she is making things worse by adding a new layer of expectations with the Common Core Implementation.  It is SAEA's perception that the Superintendent is only interested in developing the Common Core Units and has no interest in addressing the many issues that need to be resolved in order for such implementation to be successful.
We have waited long enough for issues to be tackled.  Collaborating and talking with the Superintendent has not worked, therefore it is time to organize and move to Plan B. To that effect the SAEA Board met during Spring Break and constructed a plan to help teachers take back control of their profession and classroom.
Mercer went on to say that her Board is meeting on April 9 to discuss their plan, refine it and vote on it.  It will then be presented to the Rep Council on April 16.  In the interim the teachers are going to be surveyed and that information is going to be presented to the SAUSD School Board.
The SAUSD's teachers have had six consecutive years of no cost of living increases and they are spending more and more of their own money for supplies. I am also hearing that the District is looking at attempting to cut their pay as soon as possible. This year, after assuring the union that there would be no cuts in pay or furloughs and that the contract was complete, they attempted at the last minute to change that, but it didn't happen.
In the meantime, the District continues to hire very expensive consultants for just about everything the top-heavy district administration doesn't want to do themselves. Why do they continue to hire these people if, in fact, they are so broke?
In related news, "The Santa Ana Unified School District has experienced "significant" financial deterioration over the last two years, according to Fitch Ratings, a leading municipal credit watcher that downgraded the district's credit rating by two notches earlier this week," according to the O.C. Register.