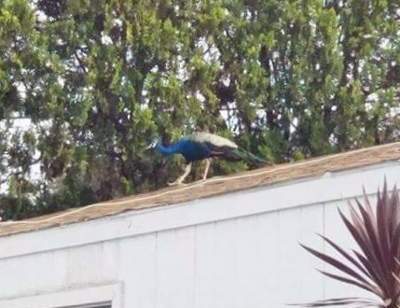 A Santa Ana resident has been trying to get City Hall to help an injured peacock that showed up at her Mobile Home park two days ago, at 1527 S. Standard Ave., in Santa Ana.
The resident has called the Santa Ana Police Department, which is supposed to run our Animal Control department, and has been ignored. The Santa Ana Zoo ignored her too. She is at her wits end! The poor peacock appears to have some twine or ripe around its feet.

Sadly this is what I have come to expect as business as usual in Santa Ana – a city with executives and Council Members that all got big raises last year while doing nothing to deserve any of that.
If any of our readers can help please do so!  The Mobile Home park is not far from Madison Park.