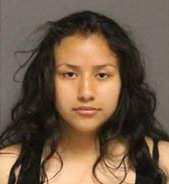 The Tustin Police responded to the 3090 block of Edinger Ave., in reference to an attempted carjacking, on March 9, at around 7:09 pm.
The female suspect in that crime was suspected to have committed previous carjackings in Costa Mesa and in Irvine.  Detectives from the Tustin Police Department identified the suspect using forensic evidence left at the Tustin crime scene.
On March 12, Santa Ana resident Jocelyn Cano, 21-years-old, was arrested by Tustin Dectives, without incident, at a residence in Santa Ana.
Cano has a lengthy criminal history including auto theft, burglary and narcotic-related arrests and is currently on parole.
Cano was booked into the Orange County Jail for carjacking, attempted carjacking, brandishing a weapon (a knife), and assault likely to cause great bodily injury.