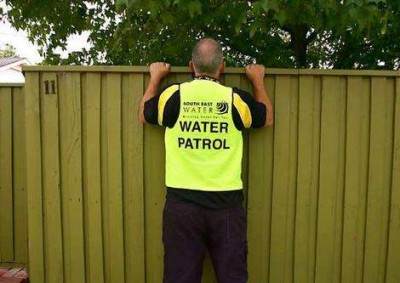 City of Santa Ana, Downtown Orange County
Santa Ana Adopts Drought Penalty Effective Immediately
City Council Establishes Excessive Use Penalty To Further Incentivize Water Conservation
The Santa Ana City Council at its meeting on August 4, 2015 approved amendments to the city's existing water conservation program and adopted an excessive water use penalty designed to encourage water conservation during the ongoing drought. The penalty is in response to the mandated statewide 25% potable water-use reduction, as outlined in Governor Brown's executive order of April 1, and the City of Santa Ana's Stage II Water Supply Shortage resolution requiring a 12% citywide reduction in water usage.
Under the Santa Ana Municipal Code sections 39-111 and 39-112, Santa Ana water customers who do not reduce their monthly water use by 12%, using 2013 as the base year, will be assessed an excessive use penalty of $4.65 per unit (1 unit=100 cubic feet=748 gallons). For example, a customer who used 33 units of water in 2013 would have a target reduction of 4 units or a target consumption of 29 units. If the customer exceeded this target and used 32 units (3 units over the target consumption), the customer would be assessed a penalty of $4.65 per unit over the limit or $13.95 (3 units x $4.65) in addition to the base rate.
The drought penalty, which will show up on customer bills beginning in September, is designed to encourage conservation and pay for additional water conservation programs and education to help customers reduce their water use. The first violation will result in a warning on customers' water bill. The second violation will result in the application of the penalty.
"We continue to face the deepening drought conditions in California and its impact is being felt by communities all over the state," says Santa Ana Mayor Miguel Pulido. "The Santa Ana community has responded to Governor's call to action in a very positive way, exceeding the City's 12% reduction target in May, June, and July. This penalty, however, reinforces the seriousness of the situation and helps ensure compliance with the emergency drought regulations mandated by both the State of California and City of Santa Ana," Pulido adds.
The new penalty will remain in effect until the City Council declares an end to the water supply shortage emergency by resolution. To ensure residents and businesses meet their target reduction in water use, the City of Santa Ana adopted mandatory water-use restrictions on June 1, 2015. These restrictions, which will continue to February 28, 2016, include:
• Outdoor watering is restricted to Mondays and Thursdays, and only between the hours of 6 p.m. and 6 a.m.
• Leaks must be repaired within 48 hours of notification by the City.
• No washing down sidewalks or driveways.
• No excessive water flow or runoff that causes water to flow onto an adjoining sidewalk, driveway, street, alley, gutter or ditch.
• No washing vehicles with a hose, unless the hose is fitted with a shut-off nozzle.
• No operating a fountain or decorative water feature, unless the water is part of a recirculating system.
• No outdoor watering during and 48 hours following measurable rainfall.
• Restaurants and other food service establishments can only serve water to customers on request.
• Hotels and motels must provide guests with the option of not having towels and linens laundered daily.
"We are working with the community and reaching out to customers with education and conservation programs to achieve compliance with city-mandated reduction targets," says Councilmember Roman Reyna and Board Member of the Orange County Water District. "Santa Ana is proud of its award-winning water agency which is known for its reliability, quality and green practices and we will continue to be proactive in making sure all of our customers are aware of the programs available to help reduce water consumption," Reyna adds.
Residents are encouraged to visit santa-ana.org/waterconservation/ for updates about the drought, water conservation tips, water-wise gardening ideas, rebates and more. For more information, contact the Water Resources Division by phone at (714) 647-3500 or email conservation@santa-ana.org.
###