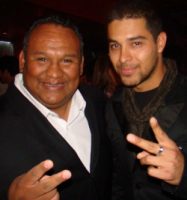 City of Santa Ana, Downtown Orange County
Community: Santa Ana Selected to Host National Forensic Association Tournament – Speech and Debate Championship – in 2019

SANTA ANA – The City of Santa Ana, in collaboration with the Santa Ana Unified School District (SAUSD) and Santa Ana Chamber of Commerce, has been selected to host the National Forensic Association (NFA) Tournament, a national Speech and Debate championship, from April 18, 2019 to April 23, 2019.
The National Forensic Association is an academic association dedicated to providing leadership in intercollegiate speech and debate education in the United States. Thousands of competitors from between 75 and 125 colleges and universities attend the national tournament each year with hopes of clinching the championship.
The annual NFA Tournament is hosted by various cities throughout the United States, which are selected through a competitive process.
"We are so excited to bring NFA to Santa Ana," said Karen Morris, NFA President. "We have been asking our membership to think of an innovative location for the last few years, and Santa Ana is it."
Santa Ana is a thriving, centrally-located community that houses an award-winning Speech and Debate program of its own for students in elementary through high school. The three entities have a strong working relationship and will draw on their respective strengths to create a positive and memorable tournament experience.
"I am pleased that Santa Ana was selected to host the NFA Tournament," said Mayor Miguel A. Pulido. "This tournament will allow us to showcase our commitment to supporting education and generating economic development opportunities."
"In the past two years, we have grown from a small handful of after-school Speech and Debate clubs to arguably one of the strongest district systems in the state, if not the country," said John Palacio, President of the SAUSD Board of Education. "We look forward to future success and expansion."
The selection of Santa Ana as the host city for the tournament will raise the national profile of both the city and the school district.
"After being hosted by colleges and universities in the Midwest for the past few years, we are thrilled to be hosted in such a lively city on the west coast" said Rebecca Buel Young, NFA Tournament Director. "Santa Ana was among one of many in the competitive bid process and was successfully chosen to become the 2019 tournament city."
"As the urban core of Orange County, Santa Ana is a dynamic city with a thriving economic climate and a flourishing school district, making our community an ideal host city for the NFA Tournament" said Mayor Pro Tem Michele Martinez. "We look forward to the opportunities that this event can foster throughout our community."
Hosting the national tournament is extremely beneficial to the community and the students of SAUSD, who are highly engaged in the district's flourishing Speech and Debate program, which was implemented last ye ar at all intermediate schools and some elementary schools.
Under the leadership of Sal Tinajero, a City Councilmember who works for SAUSD as a Communication Program Specialist, the program has grown to serve 600 students and sent a delegation to the National Speech and Debate competition for the first time in 2017, where five students placed nationally.
"We have made a clear commitment to prepare our students for college and career success. Our Speech and Debate program has proven to equip our students with the experiences, mindsets, and skills necessary to prepare them for the higher education and beyond," said Valerie Amezcua, Vice President of the Santa Ana Unified School District Board of Education.
SAUSD will provide two school sites for the tournament that offer an abundant amount of classrooms, conference rooms, meeting rooms, ceremonial spaces, and wireless internet.
Santa Ana High School, located at 520 West Walnut Street, will serve as the main campus for competitions. Martin R. Heninger K-8 School, located 50 feet across the way from the main campus, will serve as the secondary campus. Both sites are conveniently located within walking distance of bustling Downtown Santa Ana.
"We're excited to partner with the Santa Ana Unified School District and the Santa Ana Chamber of Commerce to bring NFA's speech and debate tournament to Santa Ana," said Councilmember Vicente Sarmiento. "Opportunities like this serve as a great example of what can happen when people work together," he added.
For additional information, please contact the Santa Ana Unified School District at (714) 558-5555 or the City of Santa Ana at (714) 647-5200.