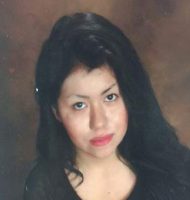 Santa Ana Police Department
Advisory: SAPD Missing Person Detectives Asking For Assistance in Locating Missing 16 Year-Old Female
Missing Person: Esli Samaria Vasquez (16)
Description: Female, Hispanic, 5'04", 135 lbs., black hair, brown eyes, wearing unknown clothing.
Location: Esli Samaria Vasquez was last seen on 3/28/17 at about 1:25 p.m. at Sami's Liquor located at 1845 W. Katella, Anaheim, CA.
Synopsis: On 02/14/17 Esli Samaria Vasquez ran away from a group home. VASQUEZ has been in communication with her father via telephone only advising that she is safe. On 3/28/17 at 1:25 p.m., VASQUEZ called her father from Anaheim. She told her father that she could not go home because someone was threatening her. VASQUEZ hung up before her father could get further information. An employee at the liquor store confirmed that VASQUEZ was seen arguing with a male outside the store. They were last seen walking south from the liquor store. No further details. VASQUEZ has run away several times in the past and currently has a child protective custody warrant.
If located, please contact the Santa Ana Police Department Watch Commander at (714) 245-8701, Santa Ana Police Department Dispatch at (714) 834-4211 or Detective G. Moroyoqui at (714) 245-8731.