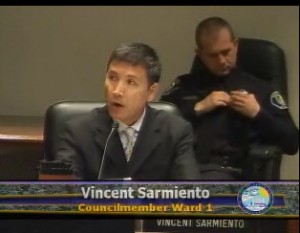 I had a long talk this afernoon with a Santa Ana insider who had some amazing chismes for me.  I was expecting that perhaps Santa Ana Mayor Miguel Pulido would run for the Orange County Supervisorial seat that is currently held by Janet Nguyen, but apparently Councilman Vincent Sarmiento has decided to run, and Pulido is not going to oppose him.
But the biggest shocker was that Measure D may be in trouble – and that it could be reversed if it is challenged in court.  That was the measure that extended the term limits of the Santa Ana Council Members by four years, from 8 years to 12.  That measure was on the ballot in a special election but apparently it should have been put in front of the voters in a general election.  What this means, if it does get wiped out, is that several Santa Ana Council Members will be termed out – including Michele Martinez and Sal Tinajero.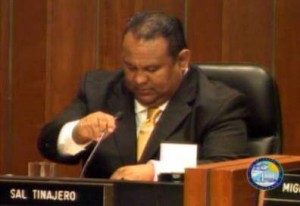 Tinajero by the way won't be challenging Tom Daly, over in the 69th Assembly District.  Tinajero is hampered by his full time job as a public school teacher in Fullerton.  He just can't find the time to run for a legislative seat.  Nor will former Santa Ana Mayor Pro Tem Claudia Alvarez be challenging Daly as she seems to be waiting for Pulido to retire so she can run for Mayor of Santa Ana.  That may be awhile yet.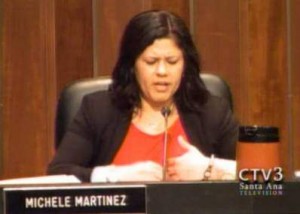 I don't think that Martinez can beat Daly.  Having flip-flopped from being against Pulido, then for him, then against him again, she has burned too many bridges.  Could Daly get a free pass in 2014?
So what about Pulido?  He will be running for re-election in 2014.  And who will challenge him this time?  I am hearing that it will be Valerie Amezcua, the daughter of his former opponent Alfredo Amezcua.  Valerie has already lost two school board races but apparently she thinks that because the non-related Angelica Amezcua won a Council seat in 2012, then she has a shot against Pulido.  I think not.  Angelica won because she ran as a schoolteacher, in a city full of voters who respect teachers.  Valerie has already been rejected twice and if she does challenge Pulido he will easily beat her, just like he thrashed her dad back in 2010.  Bring it on Valerie!