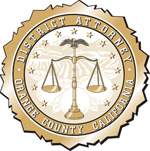 Orange County District Attorney, Press Release
For Immediate Release, Case # 13CF0801: June 3, 2013
MAN TO BE ARRAIGNED FOR SEX TRAFFICKING OF FEMALE VICTIM AND PIMPING HER AND TWO OTHERS AFTER POSTING AD ON SEX WEBSITE
*Defendant was arrested in undercover sting operation
SANTA ANA – A man arrested in an undercover sting operation will be arraigned tomorrow for sexually trafficking one woman and pimping three women for financial gain after advertising the victims on a sex website. Harvey Rashad McNight, 29, San Diego, is charged with one felony count of human trafficking, three felony counts of pimping, and three felony counts of pandering by procuring. If convicted, he faces a maximum sentence of 28 years in state prison. McNight is being held on $150,000 bail and is scheduled for a post-preliminary hearing arraignment tomorrow, Tuesday, June 4, 2013, at 8:30 a.m. in Department C-5, Central Justice Center, Santa Ana.
Circumstances of the Case
McNight is accused of being a pimp/modern-day slave owner who exploits women and/or children for financial gain. In this case, he is accused of pimping three women, ages 20 to 40. Pimps often establish rigid rules that their victims are expected to follow including requiring victims to speak only when spoken to, address the pimp as "Sir" or "Daddy," setting daily quotas that the victims are expected to fulfill, and assigning seats in the car based on "rank." Failure to follow these rules can result in deprivation of food and/or physical and/or emotional abuse.
Prior to March 2013, McNight is accused of trafficking Jane Doe #1 by driving her against her will from San Diego to Las Vegas to sexually exploit her as her pimp for financial gain. He is accused of threatening Jane Doe #1 that he would beat her, take her cell phone, and leave her naked if she did not comply.
In March 2013, the defendant is accused of advertising his victims on a website known for pimping and prostitution. The Orange County District Attorney's Office is declining to release the name of the website. In a sting operation by the Santa Ana Police Department (SAPD), an undercover officer located the advertisement and posed as a sex purchaser. The officer arranged to meet the three victims in a Santa Ana motel room on March 8, 2013.
On March 8, 2013, McNight is accused of trafficking Jane Doe #1 from San Diego to Orange County against her will to engage in sex acts. He is accused of pimping Jane Doe #1 and two other victims by arranging for them to meet the undercover officer for sex acts that day. The three victims were contacted by the officer in the motel room and other waiting officers were then notified to enter the premises. McNight is accused of being identified as the victims' pimp based on identifying information at the scene.
That same day, McNight is accused of returning to the motel room to collect the money paid to the three victims and was arrested at the scene. McNight is accused of having text messages from the victims calling him "Daddy" on his phone.
Proposition 35 and HEAT
In November 2012, California's anti-human trafficking Proposition 35 (Prop 35) was enacted in California with 81 percent of the vote, and over 82 percent of the vote in Orange County, to increase the penalty for human trafficking, particularly in cases involving the trafficking of a minor by force.
Under the law, human trafficking is described as depriving or violating the personal liberty of another person with the intent to effect a violation of pimping or pandering. Pimping is described as knowingly deriving financial support in whole or in part from the proceeds of prostitution. Pandering is the act of persuading or procuring an individual to become a prostitute, or procuring and/or arranging for a person work in a house of prostitution. Deprivation or violation of the personal liberty of another includes substantial and sustained restriction of another's liberty accomplished through force, fear, fraud, deceit, coercion, violence, duress, menace, or threat of unlawful injury to the victim or to another person, under circumstances where the person receiving or apprehending the threat reasonably believes that it is likely to be carried out.
The Orange County District Attorney's Human Exploitation And Trafficking (HEAT) Unit targets perpetrators who sexually exploit and traffic women and underage girls for financial gain, including pimps, panderers, and human traffickers. The HEAT Unit uses a tactical plan called PERP: Prosecution, to bring justice for victims of human trafficking and hold perpetrators responsible using Prop 35; Education, to provide law enforcement training to properly handle human trafficking and pandering cases; Resources from public-private partnerships to raise public awareness about human trafficking and provide assistance to the victims; and Publicity, to inform the public and send a message to human traffickers that this crime cannot be perpetrated without suffering severe consequences.
This case was investigated by SAPD and Deputy District Attorney Brad Schoenleben of the HEAT Unit is prosecuting this case.
###
Tony Rackauckas, District Attorney
401 Civic Center Drive West
Santa Ana, CA 92701
Contacts:
Susan Kang Schroeder
Chief of Staff
Office: 714-347-8408
Cell: 714-292-2718
Farrah Emami
Spokesperson
Office: 714-347-8405
Cell: 714-323-4486