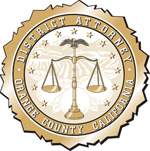 ORANGE COUNTY DISTRICT ATTORNEY PRESS RELEASE
Case # 12CF1494
Date: March 6, 2015
MAN SENTENCED TO NINE YEARS IN PRISON FOR KILLING 3-YEAR-OLD AND INJURING MOTHER IN HIT-AND-RUN IN SCHOOL CROSSWALK
*Defendant's girlfriend helped him cover his crime by filing false police report
SANTA ANA – A man was sentenced to nine years in state prison yesterday for killing a 3-year-old girl and severely injuring the child's mother by crashing his girlfriend's car into them as they passed through a crosswalk and then fleeing the scene. Carlos Antonio Parra, 23, Santa Ana, pleaded guilty yesterday, March 5, 2015, to one felony count each of vehicular manslaughter with gross negligence, two felony counts of hit and run with permanent injury or death, and one misdemeanor count of possession of a controlled substance.
Parra's girlfriend Rebeca Beltran, 27, Santa Ana, pleaded guilty on Aug. 16, 2013, to one felony count each of accessory after the fact and possession of a controlled substance. She faces a maximum sentence of three years and eight months in state prison at her sentencing on March 20, 2015, at 9:00 a.m. in Department C-41, Central Justice Center, Santa Ana.
At approximately 6:00 p.m. on Feb. 8, 2012, Lady H., then 27 years old, was pushing her 3-year-old daughter Miranda Palacios in a stroller through a crosswalk on Gilbert Street in Westminster. The crosswalk is across from a school and leads to a residential neighborhood.
Parra was driving alone on Gilbert Street in his girlfriend's tan Nissan Maxima and failied to brake, slow, or stop as he approached the crosswalk. He crashed into Lady H. and Palacios, throwing both from the crosswalk. Parra failed to stop after hitting the two victims and fled the scene. He abandoned the car nearby and left it parked and locked with the alarm activated on the street.
The victims were transported to the hospital, where Palacios was pronounced dead approximately one hour later due to blunt force trauma. Lady H. suffered several broken bones and continues to have physical problems as a result.
A few minutes after the crash, Parra called his girlfriend, Beltran, from whom he had borrowed the car. Beltran called the police the same night and falsely reported that her car had been stolen in an effort to unlawfully aid Parra in avoiding arrest, prosecution, and punishment for his crime.
Shortly thereafter, a car matching the description of that involved in the crash that killed Palacios was found parked and locked near the scene of the crime. DNA recovered from the front end of the vehicle registered to Beltran and reported stolen was matched to the victims.
Parra and Beltran were arrested May 16, 2012, after an investigation by the California Highway Patrol and Orange County Sheriff's Department. When the defendants were arrested, they possessed a box containing approximately one gram of methamphetamine in their closet.
Lady H. and her mother delivered emotional impact statements to the court during Parra's sentencing. They spoke about how the defendant's actions stole the love of their lives and that his three month evasion of police made coping with the loss of Miranda even harder. Lady H. spoke about how she is permanently disabled as a result of the actions of the defendant and how her life will never be the same.
Senior Deputy District Attorney Jennifer Walker of the Homicide Unit prosecuted this case.
###
TONY RACKAUCKAS, District Attorney
Susan Kang Schroeder, Chief of Staff
Office: 714-347-8408
Cell: 714-292-2718