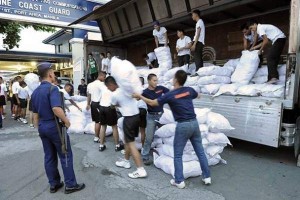 Santa Ana Loves the Philippines
Our thoughts are with those in the Philippines affected by Typhoon Haiyan. In response, as Santa Ana residents we are mounting disaster relief efforts to help those affected in the Philippines in this difficult time. Please join us by donating much needed non-perishable food this Sunday, Nov. 17, 2013, from 3-6 pm at First Presbyterian Church.
Relief Drive:
Location: First Presbyterian Church
600 North Main Street
Santa Ana CA (corner of Main & Santa Ana Blvd)
Time: 3:00pm—6:00pm
Monetary Donation also accepted: Please make checks payable to First Presbyterian Church (memo Philippines)
Please donate the following:
 Rice
 Easy to open canned food
 Dehydrated Fruit
 Bottled Drinking Water
 First Aid items
 Over-the-counter medications
 Blankets ( No clothes )
Contact Jerry M. Laforteza at 714-650-0030 or Alex Flores 714-474-8768 with any questions.