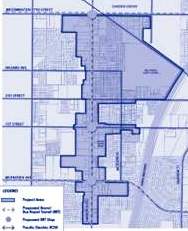 City of Santa Ana
SANTA ANA RELEASES HARBOR CORRIDOR DRAFT ENVIRONMENTAL IMPACT REPORT (DEIR) & SPECIFIC PLAN FOR PUBLIC COMMENTS
SANTA ANA, CA (April 16, 2014) – On Friday, April 18, 2014 the City of Santa Ana will release for public comments the Draft Environmental Impact Report (DEIR) and specific plan for the proposed Harbor Corridor Specific Plan. The draft Environmental Impact Report (DEIR) and specific plan will be available for review and comment from April 18, 2014 through June 2, 2014. The documents can be accessed for review online at http://www.santa-ana.org/harborplan/default.asp or at City Hall.
The 425-acre project area is oriented to Harbor Boulevard in Santa Ana, which is located in central Orange County. The project area generally includes parcels adjacent to Harbor Boulevard between Westminster Avenue and Lilac Way and parcels along Westminster Avenue, 1st Street, and 5th Street one-half mile east of Harbor Boulevard. The corridor's northern and southern ends are adjacent to the city boundaries of Garden Grove and Fountain Valley, respectively. The proposed Harbor Corridor Plan would apply to an approximately 305-acre portion of the project area that directly fronts Harbor Boulevard or perpendicular arterial streets. The remaining 120 acres of the project area, which are proposed to be converted to conventional zoning, consist of the Willowick Golf Course (is being preserved through the City's conventional zoning designation of Open Space), residential properties along Jackson Street, and commercial properties along 5th Street. This portion of the project area is east of the Harbor Boulevard corridor and abuts the Santa Ana River to the east.
For more information, or to provide written feedback, please contact Principal Planner Sergio Klotz at (714) 667-2796 or via e-mail at sklotz@santa-ana.org.
###