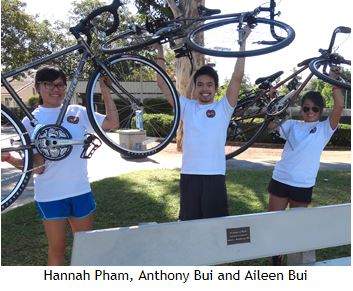 Santa Ana Grads Give Back to SAUSD Community by Riding Across America
HEALTHNUTS AND HANDLEBARS TEAM COMPETES IN TOUR DE CALIFORNIA RACE TRAINING FOR CROSS-COUNTRY TREK
Anthony Bui, his sister Aileen, and girlfriend Hannah Pham, otherwise known as Healthnuts and Handlebars, have been on a serious training regimen to prepare themselves for their upcoming three-month bicycle trek on the TransAmerica Trail from Oregon to Virginia.
Both Bui siblings are graduates of Saddleback High School, while Pham is a graduate of Fountain Valley High School. All three are college graduates who wanted to make the trip before attending professional post-graduate schools in healthcare fields. The Buis are headed to medical schools and Pham to pharmacy school.
The team is making the three-month bicycle journey to raise funds for the Kevin Armstrong MD Memorial Sports Foundation , which provides support to Santa Ana Unified School District students to allow them to participate in sports.
None of the threesome was a serious cyclist before committing to the cross-country ride, but for the last three months, they have been on a serious riding schedule, including steep mountain climbs, and recently participating in a part of the Tour de California professional bicycle race.
Kick off for the adventure is May 1, 2014 with the goal of reaching Virginia by the end of July.
Read about their fantastic performance at L'Etape du California on the website: www.healthnutsandhandlebars.wordpress.com/
###