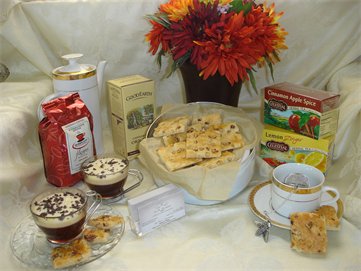 If you are looking for a unique gift idea, how about cookies made right here in Santa Ana, by SueBee's Creations?  These aren't just any cookies.
Bordeaux Delights are wonderfully delicious cookie bars that offers four different options for your topping. Choose from walnuts, pecans, chocolate chip, coconut or no topping at all. Either way you will have a Bordeaux Delightful experience.
The cookie bars are available in one, two or three dozen increments.
"Bordeaux Delights" have been enjoyed by Derek and Sue Bordeaux' family and friends during the holidays for many years. For this reason they have decided its time to share their cookie bars with the rest of the world so they can enjoy them as well.
They use only the highest quality of products to produce their cookie bars which assures that they are the best that they can be and that you will enjoy every bite. Customer satisfaction is our goal 100% of the time.
Please call us toll free at 888-395-0348 or via email at cookies@suebeescreations.com for more information on products, promotions and custom options.  Click here to visit their website.