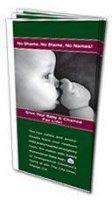 Date: August 11, 2017
Contact: Molly Nichelson, (714) 541-7734, Molly.Nichelson@ssa.ocgov.com
Safe Surrender Saves Lives in Orange County
Orange County, CA – A healthy baby was safely surrendered to Anaheim Fire & Rescue (AF&R) Station 1 late on Tuesday afternoon. The baby and mother were assessed by AF&R's Nurse Practitioner and Firefighter/Paramedics before being transported to a local hospital for care and observation. The baby is currently in the care of the County of Orange Social Services Agency's Children and Family Services (CFS) division.
California's Safely Surrendered Baby Law was first created in 2001 and was signed permanently into law in 2006. In Orange County, persons can safely and anonymously surrender their child up to three days old in any hospital emergency room, fire stations displaying the Safely Surrendered Baby logo as well as the Social Service Agency's Orangewood Children and Family Center.
County of Orange social workers place safe surrender children in a licensed foster home while finding the best adoptive family for the infant. An individual surrendering their child have 14 days in which to change their mind. Since 2002, there have been 74 safe surrender incidents across Orange County.
For more information about Safe Surrender in Orange County and find brochures on the law in English, Spanish and Vietnamese, visit http://www.ochealthinfo.com/phs/about/family/occp/safe.