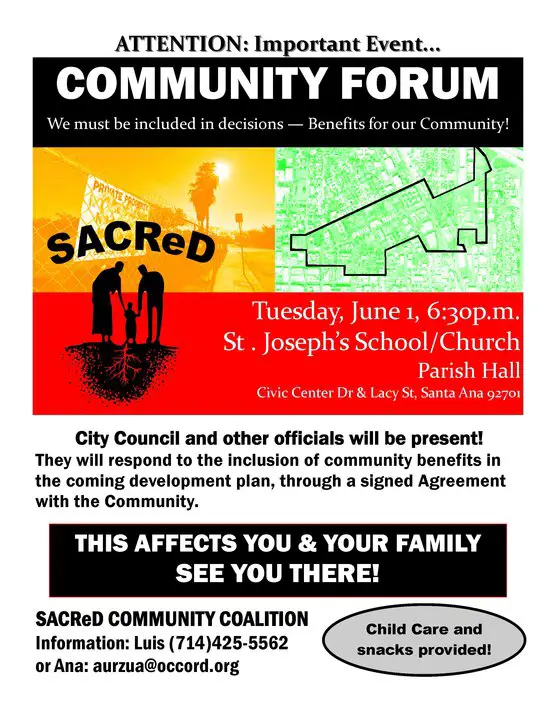 We Want a Dignified Community for All– It is still time for the City to think over their response and reconsider a Community Benefits Agreement
The community has united and organized under a coalition called SACReD, Santa Ana Collaborative for Responsible Development, and asks the City to sign a Community Benefits Agreement which will give the community the security and guarantee that the development projects of the Station District and Transit Zoning Code will in fact benefit the community.
SPREAD THE WORD!

Comunity Action and Forum – JUNE 1st @ St Joseph's
When Tue, June 1, 6:30pm – 8:00pm GMT-07:00
Where St. Joseph's School/Church, Parish Hall. Civic Center Dr & Lacy St, Santa Ana, ca. 92701
Without a legally binding, enforceable agreement, their promises are just promises, no different than the false words of support they had given to this community.
Please plan to attend and confirm with us!
For more information:
Ana- 714-335-1528
Luis- 714-425-5562
****************************************
Queremos una Comunidad con Dignidad para Todos– Todavia es tiempo que la Ciudad recapacite y reconsidere un Acuerdo de Beneficios Comunitarios
La comunidad se ha unido y organizado bajo una coalición llamada SACReD, Colaborativo de Santa Ana para el Desarrollo Responsable, pidiendo que la Ciudad firme un Acuerdo de Beneficios Comunitarios, que les daría la garantía y seguridad a la comunidad de que el proyecto de desarrollo del Station District y el Transit Zoning Code realmente traerá beneficios a la comunidad.
Foro Comunitario
Martes, 1 de junio, 6:30pm
Iglesia de San Jose
(Civic Center Dr. & Lacy St, Santa Ana, Ca. 92701)
Sin un Acuerdo legal que se pueda hacer cumplir por la misma comunidad, las promesas son solo promesas, iguales a las falsas palabras de apoyo que nos habian dado hasta ahorita.
Por favor confirmen su asistencía!
Para más información:
Ana- 714-335-1528
Luis- 714-425-5562