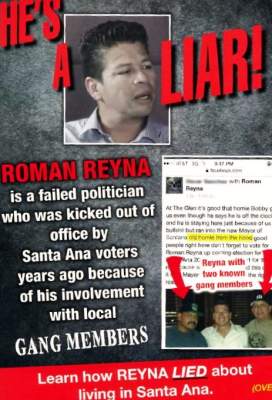 Roman Reyna may have won a seat on the Santa Ana City Council in the November General Election but he probably should refrain from celebrating now that he has been sued by his Ward 4 opponent, Phil Bacerra. Click here to read the legal pleading.
You might recall a campaign mailer that included a representation of an actual text conversation that occurred between Reyna and the Santa Ana City Clerk wherein she advised him that he had applied to run as a Ward 4 candidate while using a Ward 6 address. Reyna then asked the City Clerk for a copy of the city's ward map and he responded with "Yikes!"
On paper it sure seems like Reyna broke the law – he faked his home address and then tried to fool residents about where he lived.
To make matters worse, Reyna refiled at a Ward 4 address less then 30 days before the nomination period for Ward 4 closed.
I am amazed that the Santa Ana City Clerk approved Reyna's addition to the Ward 4 ballot. She has accordingly been named as a co-defendant in the new case against Reyna.
Here is the bad news for Reyna – if a Judge finds that he broke the law he will be dismissed from office and if he is found to have committed a felony he will NEVER be able to run for public office again.
If Reyna does end up getting booted from the Santa Ana City Council it is likely that his seat will either be filled by appointment or there will be a Special Election.
Wouldn't that be just desserts if Bacerra was appointed to replace Reyna as the Ward 4 City Councilman – after Reyna and his allies participated in a horrific smear campaign against Bacerra?