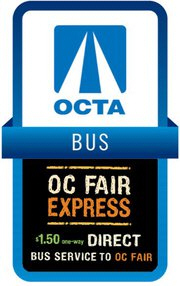 Ride the OC Fair Express to the fair and save!
After a successful first weekend with more than 3,000 passengers carried, the OC Fair Express will return this weekend, providing direct, hourly service to the fair. Thanks to a special partnership, all OC Fair Express passengers will receive a coupon for $2 fair admission when they board! Are you planning to take the bus to the fair?
Here are some of this weekend's planned activities:
Ice sculpture museum and demonstrations
Ringling Bros. Circus performances
Dueling pianos
$15 concert performances by tribute bands playing music by No Doubt and David Bowie
Food demonstrations, including cake decorating, edible sugar arts, chocolate crafting and more
Review the complete daily schedules here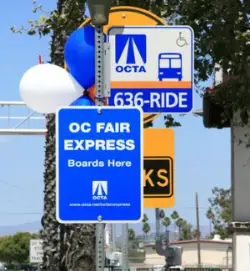 Submit a photo of your trip for a chance to win a bus pass.
Those who ride the OC Fair Express to the fair can participate in our photo contest. Submit a photo and a brief caption to kyoung@octa.net. We will then post your photo on our Facebook page in a special album and invite people to "like" their favorite photos. The photos with the most "likes" by August 2 will win a bus pass!