Congresswoman Loretta Sanchez, Representing California's 46th Congressional District
FOR IMMEDIATE RELEASE: November 20, 2015
MEDIA CONTACT: Emily Morris, 202-225-2965, Emily.Morris@mail.house.gov
REP. LORETTA SANCHEZ URGES ACTION ON POVERTY
WASHINGTON, D.C. – This week, Congresswoman Loretta Sanchez (CA-46) demanded meaningful action on poverty from Congress.
Speaking from the House floor, Congresswoman Sanchez asked, "How can we tell a family to pursue happiness, when the rug is constantly pulled out beneath them?"
"We shame families that don't have the means to lift themselves out of the cycle of poverty, but don't want to give them aid," said Congresswoman Sanchez. "Well Mr. Speaker, I think the real shame is that we are a nation of bountiful wealth, and still have over 46 million people living in poverty."
"With the rising costs of housing and food, families in the United States are stretching each dollar further and further," continued Congresswoman Sanchez.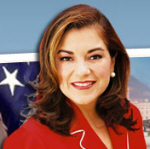 Congresswoman Sanchez advocated for "sensible, American ideas, where hard work is rewarded with equal compensation and protections."
The Congresswoman spoke about housing affordability, hunger, and Supplemental Nutrition Aid Program (SNAP) funding. She also highlighted the positive work done by two organizations located in Orange County, the Lestonnac Free Clinic and OC Food Bank.
"I believe that we as lawmakers, but more importantly as Americans, owe it to the families of this nation to enact legislation in which each and every person has the means to succeed," Congresswoman Sanchez concluded.
Congresswoman Sanchez's floor speech can be viewed HERE.
Last month, Congresswoman Sanchez co-sponsored H. Res. 506, the Working Families Resolution, which called for the House to address some of the issues facing Americans living in poverty. The resolution addressed commonsense measures such as sensible working accommodations for pregnant women, equal protections for citizens in the workplace, and increasing the minimum wage to become a living wage.
###
Congresswoman Loretta Sanchez is proud to represent California's 46th Congressional District, which includes the cities of Anaheim, Santa Ana, and parts of the cities of Garden Grove and Orange in Orange County. She serves as Ranking Member of the House Armed Services Subcommittee on Tactical Air and Land Forces and as the second ranked Democrat on the Committee on Homeland Security.