Loretta Sanchez must surely regret walking away from a safe House seat a few years ago, when he ran instead for the U.S. Senate and got trounced by Kamala Harris, who beat Sanchez by over 2.5 million votes. How galling it must be for Sanchez to now watch Harris run for Vice President while Sanchez has continued to lose. Sanchez moved from Santa Ana to Orange and ran against Don Wagner for the 3rd O.C. Supervisorial District in 2019. He beat her by 4,000 votes.
Sanchez will however be back on the ballot this November as she vies for Area 7 of the Rancho Santiago Community College District. Sanchez is running against another Democrat, Tina Arias Miller, who is a Community College Director. Read Miller's candidate statement here. You can also check out her campaign website here. Read the Sanchez candidate statement here.
Miller's Linkedin Page shows that she currently works for the North Orange County Community College District and she previously worked at Santa Ana College.
As for Sanchez, her Linkedin Page shows she has done nothing of import since unwisely leaving the House of Representatives.
Sanchez may have a tough time in her latest campaign as Area 7 includes Villa Park and most of the City of Orange. There are a lot of conservative voters in that Area and they won't likely be moved to vote for Sanchez.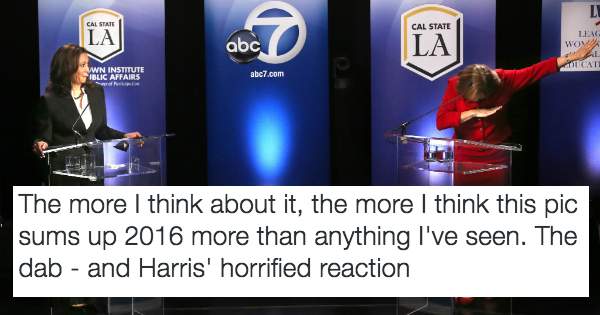 Former Santa Ana City Councilman Sal Tinajero is also running for the Rancho Santiago Community College District, in Area 3. It is ironic because he was the one who coached Sanchez for her televised debate with Kamala Harris. You can read Tinajero's candidate statement here. Tinajero forgot to mention in his statement that he was the architect of the failed Santa Ana Measure X sales tax increase that accomplished nothing for Santa Ana, except for paying old debts and giving the police union a huge raise.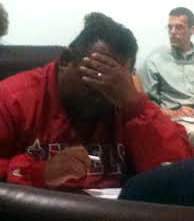 Tinajero, like Sanchez, lost his last campaign, in 2018, when he ran for Mayor of Santa Ana. The incumbent, Miguel Pulido, won by less than a thousand votes. Pulido terms out this year and he lost his race for the O.C. Board of Supervisors in this year's March Primary Election.
Curiously neither Sanchez nor Tinajero are publicizing their respective campaigns for the Rancho Santiago Community College District's Board of Education. Neither has a campaign website up and both have failed to launch a Facebook campaign page as well. Perhaps they are assuming victory? That is a dangerous play as the voters have choices and may opt to vote for their opponents.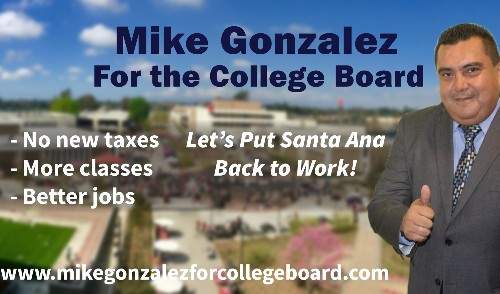 Tinajero is running against the very successful Santa Ana businessman Mike Gonzalez, who has operated a security guard business for many years while also operating a number of local restaurants and nightclubs. Read Gonzalez' candidate statement here. He has a personal connection to Santa Ana College as he took coursework there when he was younger that later helped him as he started to open his own businesses.
Former Santa Ana City Councilman and successful businessman Brett Franklin is also running for the Rancho Santiago Community College District this November, in Area 5, which extends through north Santa Ana all the way to Euclid and includes the Floral Park Neighborhood and part of the Park Santiago Neighborhood. Click here to read Franklin's candidate statement.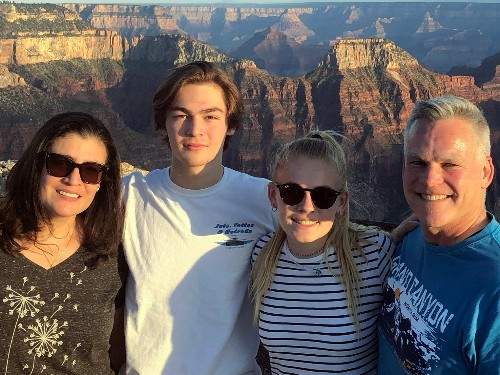 As a two-term City Councilman and Mayor Pro Tem, Brett oversaw a balanced city budget in each of 8 years. He's also been a strong supporter of the museums, arts and culture movement and helped spearhead the Reading City literacy program, which is now a model nationwide.
Franklin grew up in Santa Ana. His dad was a Marine Corps jet pilot and his mom was a Registered Nurse. Franklin graduated from Santa Ana public schools, including Santiago Elementary, Willard Intermediate, and Santa Ana High. He earned a Bachelor's Degree in Business from Westmont College.
Franklin met his wife Rossette while attending language school in Costa Rica. She worked as a teacher's aide for disabled children in the SAUSD and they raised their son and daughter here in Santa Ana. Rosette attended Santa Ana College, where she learned English and earned an AA degree before moving on to Vanguard University where she completed her degree in psychology.
Franklin is opposed this November by two political neophytes, David Crockett and Samuel Ulloa. While Crockett bought a candidate's statement and has a campaign website, Ulloa did not. Crockett says he is an Affordable Healthcare Manager. Ulloa's Facebook page says that "Samuel Ulloa is a 1st generation American and 1st generation college graduate focused on making sure our community colleges are safe, affordable, and providing quality education."
The incumbents on the Rancho Santiago Community College District's Board of Trustees have piled on vast amounts of debt via multiple bond measures in the past few years then have squandered much of that money on union-only Project Labor Agreements. We hope that the businessmen and other candidates running for this Board in November will prevail and bring with them increased fiscal prudence and better oversight of taxpayer proceeds.