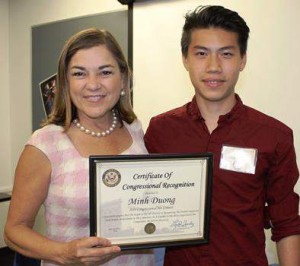 Congresswoman Loretta Sanchez, Representing California's 46th Congressional District
PRESS RELEASE, FOR IMMEDIATE RELEASE: June 17, 2014
REP. LORETTA SANCHEZ ANNOUNCES WINNERS OF 2014 CONGRESSIONAL ART CONTEST
WASHINGTON – Congresswoman Loretta Sanchez (CA-46), co-chair of the national Congressional Art Competition, today announced four local high school students whose artworks were selected as the winning entries from her district. The winners, who receive art school scholarships, were chosen by local judges in collaboration with Arts Orange County's Imagination Celebration, the annual, county-wide family arts festival. 
"Every year, the Congressional Art Competition recognizes the extraordinary talent of our nation's young people," said Rep. Sanchez. "This year's 46th District winners wowed our judges with their work and I am honored to represent this group of impressive young artists. Congratulations to all the winning students and their families."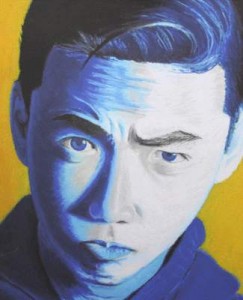 Santiago High School student Minh Duong was awarded first place for the art piece "Found Me Out." Minh's artwork will be displayed for one year as part of a national exhibit in the Cannon Corridor of the U.S. Capitol building. Minh will receive a $10,000 scholarship to the Art Institute of California—Orange County, a campus of Argosy University. Minh also will receive two round-trip tickets to Washington, D.C., to attend the national reception and ribbon cutting ceremony next Wednesday.
The second place award was shared between Godinez Fundamental High School students Aidee Sanchez for her piece titled "Jungle Gym" and Melissa Escobedo for her piece "Beyond the Shore." The second place prize is a $5,000 scholarship to the Art Institute of California—Orange County. Tri Nguyen of Santiago High School received third place recognition and a $3,000 scholarship to the Art Institute for his untitled work.
###
Congresswoman Loretta Sanchez is proud to represent California's 46th Congressional District, which includes the cities of Anaheim, Santa Ana, and parts of the cities of Garden Grove and Orange in Orange County. She serves as Ranking Member of the House Armed Services Subcommittee on Tactical Air and Land Forces and the second ranked Democrat on the Committee on Homeland Security. Rep. Sanchez is also a member of the fiscally conservative Blue Dog Coalition and sits on the bipartisan, bicameral Joint Economic Committee.
MEDIA CONTACT: Barb Solish, Barb.Solish@mail.house.gov