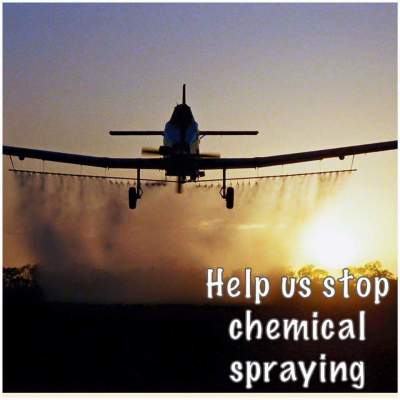 Concerned Orange County residents are gathering today, September 8, 2015, at 4 pm, at the offices of the Orange County Vector Control District to protest the scheduled spraying of a chemical poison on our households that is set to take place this week on Tuesday and Wednesday over the cities of Orange, Tustin, Villa Park and portions of Anaheim, Fountain Valley, Garden Grove, Santa Ana and Stanton between 10 p.m. and 4 a.m.
The O.C. Vector Control District is located at 13001 Garden Grove Blvd., in Garden Grove. News crews from several local TV and radio stations will be there to witness the protest.  If you cannot be there you can still call the Vector Control District and complain at (714) 971-2421 or (949) 654-2421.
The Vector Control District barely announced this spraying last week and has not put in much effort to publicize it.  Various city agencies say that only social media is being used to get the word out.
There are legitimate concerns about public health not only with regard to residents who live outside, such as the homeless, but also those who don't have air conditioning and leave their windows open at night.
There is no reason to spray our homes with toxic chemicals since there have been no deaths due to the West Nile Virus this year and only a handful of sick people.  Those at most risk are the homeless – again because they tend to sleep outdoors.  The solution is to give them mosquito repellent or better yet provide them with housing.
The real reason that Vector Control is insisting on spraying is to use up the money they take from us via property assessments every year.  They are a useless agency and should be shut down.  Nothing they do could not be done by contractors under the auspices of the O.C. Health Care Agency.
Furthermore the poison they want to spray kills bees and other insects and harms fish.  The number one way to control mosquitoes is to put mosquito-eating fish in local bodies of water.  Now the same agency that distributed the fish is going to kill them with this poison spray!
Lastly don't forget that we are in a drought and there is very little water out there for mosquitoes to breed in.  This spraying is not necessary.  This is pure political B.S.!
It also looks like Disneyland is in the path of the proposed aerial toxic spraying.  Call them at 714-781-4000 and press 3.  Ask for health or guest relations and share your concerns.  Also call them at 714-781-4667 and press 0. This spraying is a threat to their guests and their animals!
You can also go to the Stanton, Orange and Garden Grove City Council meetings tonight and voice your concerns. They all start at 6:30 pm except for the one in Orange that starts at 6 pm.
Please take the time to complain to the lame Vector Control District Board Members and Staff and to our local elected officials: