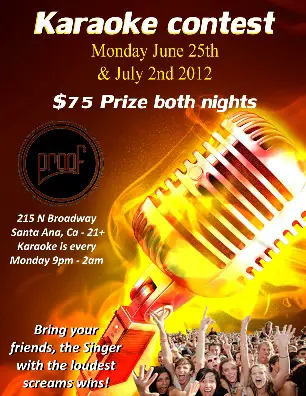 Don't miss the Karaoke contest at Proof Bar, in Downtown Santa Ana, on Monday, July 2.  You can win $75!  The fun starts at 9:00pm until July 3 at 2:00am in PDT. You can choose to just come and sing, or sing and be part of the contest.
$75 goes to the singer with the loudest cheers both nights, and Theo Hirsch still buys shots for his favorite singers.
Make sure to bring your friends to cheer you on, but more importantly, make sure you kick ass on stage! Get to proof early to start singing, because the more times you sing, the better people will know who you are. We will cheer for our favorite singer sometime between 12 and 1am.
Proof Bar is located at 215 N. Broadway, Santa Ana, California 92701.