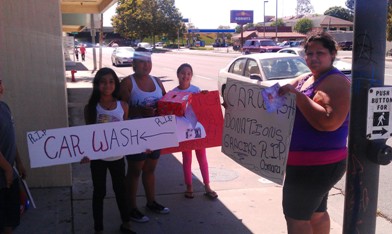 When Santa Ana resident Beatriz Jimenez saw alleged DUI driver Jessica Louise Cowan plow through the Meza family, last Saturday morning, killing 5-year-old Osmara Meza, she had to make a quick decision.  She wanted to stop to help, but she saw that Cowan wasn't stopping, so she pursued her and ended up using her car to block Cowan's escape, over at Main and 17th.
Jimenez is still having nightmares about what happened.  And she is coming to terms with the fact that she is now a hero.  Santa Ana Council Member Michele Martinez posted today on her Facebook page that she and Santa Ana Council Member Vincent Sarmiento will be honoring Jimenez at the next Santa Ana City Council meeting.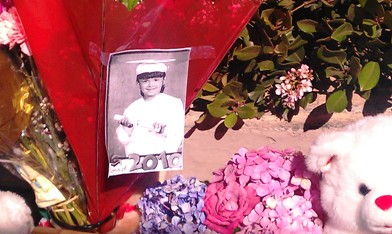 While the Meza family quickly put together a car wash last Sunday to raise money for the burial of Osmara Meza, the Santa Ana Police Foundation have recognized their need and has set up a fund to help them pay for burial expenses. To make an online donation, visitsapdf.org/tragedyor send a check payable to Santa Ana Police Foundation, 2321 E. Fourth Street, Suite C-175, Santa Ana, CA 92705.
The Santa Ana Neighborhood Associations host an annual Hero Awards event.  Usually the awards go to a bunch of busybodies.  This year they need to give their Hero Award to a real hero – Beatriz Jimenez.