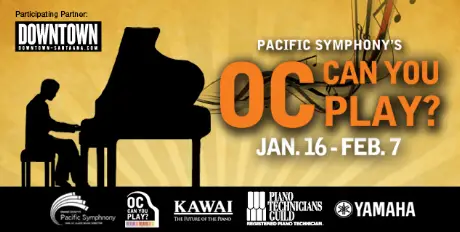 Pacific Symphony wants to know: "OC Can You Play?" and if you can, have we got a piano for you! And if you can't, why not?!
The Symphony has taken on a big, exciting three-prong project, which begins with the installation of pianos in public spaces throughout Orange County for all to play and enjoy during the latter half of January 2011, the project also includes two other initiatives. Details on a launch party are forthcoming! Keep up with all the activities and where to find a piano when you need one at www.pacificsymphony.org/OCCanUPlay.
Approximately 20 pianos are about to turn up in public spaces throughout the county—Sunday, Jan. 16 to Sunday, Feb. 6, 2011—with three pianos at South Coast Plaza (including a grand in Jewel Court); one at…downtown Disney in Anaheim; the Irvine Spectrum Center; the Block at Orange; Main Beach in Laguna Beach; on a hilltop at Whiting Ranch, downtown Brea; and one near the Mission in San Juan Capistrano.
Also among the hosting sites is the Orange County Performing Arts Center (the Symphony's artistic partner); Irvine Barclay Theater, the University of California, Irvine; The Lab in Costa Mesa; Great Park in Irvine; Fullerton; OASIS Senior Center in Newport Beach; Mile Square Park in Fountain Valley; Downtown Santa Ana's Artists Village Promenade; and the Norman P. Murray Community and Senior Center in Mission Viejo…so far!
Come, play, videotape a performance and display it on You Tube and the Symphony's Facebook page! The Artists Village piano, painted by local artist and singer-songwriter Joni Renee will be located on the Second Street Promenade between Broadway and Sycamore from Sunday, January 16th to Sunday, February 6th !
Presenting sponsor Yamaha and supporting sponsor Kawai have donated pianos, which are being painted by local professional artists, and the Piano Technicians Guild is providing significant support in preparing and tuning the pianos. The public—those who already play and those who don't—is invited to play tunes, teach their children "Chopsticks," "Ode to Joy" or whatever they like, or create "piano mobs" and impromptu or planned classical, rock and jazz performances are welcome.  Click here to find out how you can create your own piano mob.
Update: Santora artist Alicia Rojas is painting a brand new Yamaha P-22 piano for this event!  See the picture below: