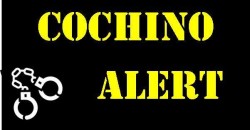 April 6, 2018
Case # 15CF2100
MAN CONVICTED OF TRAFFICKING, PIMPING, AND PANDERING 16-YEAR-OLD GIRL IN SANTA ANA MAN CONVICTED OF TRAFFICKING, PIMPING, AND PANDERING 16-YEAR-OLD GIRL IN SANTA ANA
SANTA ANA, Calif. – A man was convicted today of trafficking, pimping, and pandering a 16-year-old girl in Santa Ana.
Defendant: Isaiah Rene Harris, 27, Hawthorne
Pleaded guilty today to the following felony counts:
Human trafficking of a minor
Pimping a minor
Pandering a minor over 16 years old by procuring
Conspiring to dissuade a witness
Prior serious and violent felony convictions

Robbery in 2009 in Los Angeles
First degree burglary in 2009 in Los Angeles
Maximum Sentence: 26 years in state prison
Sentencing: May 11, 2018, 8:30 A.M. at Department C-44, Central Justice Center, Santa Ana
Circumstances of the Case
Harris a being human trafficker/pimp who exploits women and/or children for financial gain. The victims are required to turn over all payment they receive for sex acts from sex purchasers to their pimp.
Between Aug. 1, 2015, and Aug. 15, 2015, Harris trafficked 16-year-old Jane Doe and persuaded her to engage in commercial sex acts in areas known for prostitution and human trafficking in Santa Ana.
The defendant collected the earnings the victim made from engaging in commercial sex.
On Aug. 15, 2015, Harris drove a vehicle with Jane Doe sitting in the passenger seat and committed a traffic violation on Harbor Boulevard and Hazard Avenue in Santa Ana.
A Santa Ana Police Department (SAPD) officer conducted a traffic stop on the defendant's vehicle.
SAPD arrested Harris after further investigation and discovering evidence within his vehicle consistent with prostitution and human trafficking.
While in custody at Orange County Jail, Harris contacted another person and repeatedly directed her to make contact with the victim to ensure that she did not testify or cooperate with law enforcement.
Members of the OCHTTF and the Orange County District Attorney's (OCDA) Office work proactively to protect women and minors from falling victim to commercial sexual exploitation. This case was investigated by OCHTTF, a partnership between Anaheim Police Department, California Highway Patrol, Costa Mesa Police Department, Homeland Security Investigations, Huntington Beach Police Department, Irvine Police Department, OCDA, Orange County Sheriff's Department, Santa Ana Police Department, and community and non-profit partners.
Prosecutor: Senior Deputy District Attorney Daniel Varon, HEAT Unit
Proposition 35 and HEAT
To read more about California's anti-human trafficking Proposition 35 (Prop 35) and the OCDA's Human Exploitation and Trafficking (HEAT) Unit, please visit www.orangecountyda.org and select Human Trafficking Information from the Media Center drop down menu.