Fairfield Residential, which is majority owned by CalSTRS (the California Teachers Retirement Association) is proposing a mixed-use development, the Cabrillo Town Center, in Santa Ana consisting of:
a five-story, 449-unit apartment complex;
a seven-story, 898-car parking garage;
58 townhomes; and
6,000 square feet of ground-floor commercial space.
The project is to be located at 1901 and 1971 E. Fourth Street and 515 and 525 N. Cabrillo Park Drive.
The Santa Ana Planning Commission met yesterday and deliberated about the project. You can hear their comments in the video above at the 1:25 mark. They ended up approving the project unanimously except for one Commissioner who missed the meeting.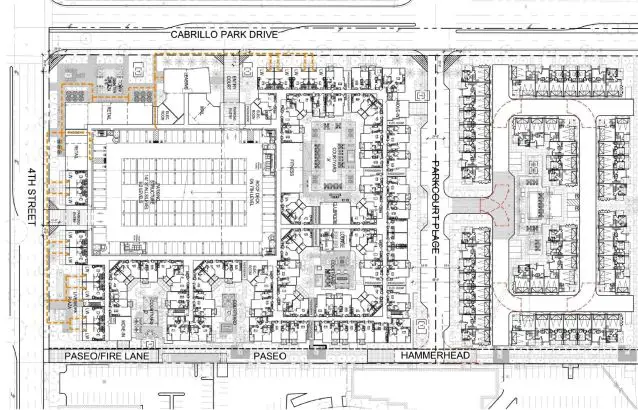 Fairfield has opted to pay an in-lieu fee toward the production of affordable housing elsewhere in Santa Ana rather than provide on-site affordable units at this development. The developer will pay the City of Santa Ana just over $8 million, based on the number of apartments proposed and square footage of the complex.
The City's staff report estimates that the approximately $250-million development is expected to generate $22.8 million in recurring revenue for the city, as well as 1,913 temporary jobs and 32 permanent jobs.
The City of Santa Ana expects to spend as much as $14.5 million over the next 25-years, as a result of the project. That will lower their net revenue to just over $8 million.
The City of Santa Ana will also receive about $15.5 million in revenue from the permit fees, AHOCO in-lieu fees, park impact fees and other development impact fees.