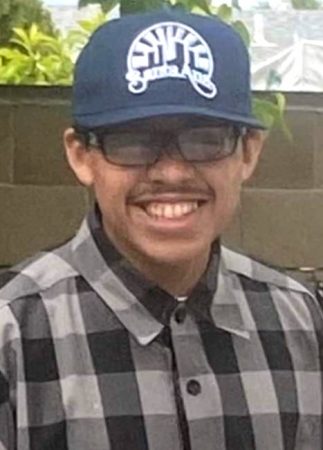 Edgar Macias Martinez, a 25-year-old man, was convicted on Wednesday of fatally shooting Alex Ruiz (pictured above) of Garden Grove, 20-years-old, in a drive-by shooting in Santa Ana in the midafternoon on on Aug. 15, 2022.
Martinez, who was already a felon, was convicted of first-degree murder with special circumstances of a drive-by shooting and murder for the benefit of a gang. He was also convicted of a sentencing enhancement for discharge of a firearm causing death, because of his status as a felon.
O.C. Deputy District Attorney Mallory Miller told the jurors that Martinez and another man drove into the heart of his rival gang territory with the intent to shoot at whatever gang member he came across.
Martinez was caught on a surveillance video showed him leaning out of the passenger side window of a Chevrolet Equinox at 3:19 p.m. and opening fire on Ruiz, who was with his friend, Andres Ponce, at 1726 N. Spurgeon St., between Main Street and the 5 Freeway, less than one block north of 17th Street. That is an area that has always been rife with gang activity.
Ruiz was taken to OC Global Medical Center, where he was pronounced dead at 4:05 p.m. after he essentially bled to death. He had been shot once in the chest.
The SAPD's police investigators were able to determine part of the license plate number from the car captured on surveillance video. They also used the surveillance video to track the car's movements before and after the shooting.
An SAPD detective also recognized the car from a separate crime, which led police to the registered owner, the defendant's sister, according to Miller. When they went to Martinez's residence they saw the suspect's car there.
The defendant's sister admitted to the SAPD detectives that Martinez had borrowed her car that afternoon and when he returned home it appeared he had been to a local fitness center. The SAPD investigators obtained surveillance video of Martinez arriving at a fitness center at Main Place Mall minutes after the shooting.
Miller also mentioned Ruiz' friend, Ponce, telling the jurors that he will have to deal with being with his friend when he was fatally shot by Martinez in what she termed a "classic drive-by gang murder."
Jonathan Lynn, Martinez's defense attorney, told the jury that Ponce picked someone else out of a lineup, not Martinez. Lynn also said that the SAPD did not test Martinez's hands for gunshot residue and there was no murder weapon found. Lynn also said that Martinez did not note any gang connections in social media.
Lynn failed to mention that Martinez was out on bail at the time of the shooting on a felony count of possession of a firearm by a felon and being a prohibited person owning ammunition as well as bringing or sending drugs into jail.
Martinez pleaded guilty back in April of 2021 to being a felon in possession of a firearm. Martinez also pleaded guilty in February of 2017 to participating in gang activity and conspiracy to commit assault with a semiautomatic firearm with a sentencing enhancement for gang activity. And he was convicted in juvenile court of robbery in May 2015, when he was 17.
Whether or not Martinez had any social media accounts is a good question but he most certainly had a long and disgraceful criminal record. At any rate the jury did not buy Lynn's defense as Martinez was ultimately convicted.
O.C. Superior Court Judge Gary Paer will hold a hearing on Thursday to confirm the Martinez' prior convictions, which will affect his punishment when he is sentenced May 19. He could be looking at life in prison and his future workouts will be at a prison yard, not at 24 Hour Fitness.