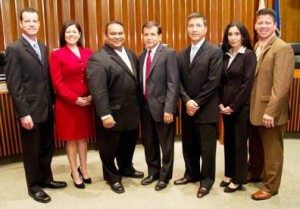 From: The OC Politics Blog
You have to love the OC Weekly's annual list of Orange County's Scariest People. This year's list includes Anaheim Council Member Kris Murray, GOP blogger Matt Cunningham, OC Supe Todd Spitzerm, State Senator Lou Correa and lame OC Register owner Aaron Kushner. Here are a few excerpts:
A pioneer in OC's blogging community, Matt Cunningham was shamed into digital hiding a couple of years ago when the longtime Republican operative outed sex-abuse victims in his pathetic campaign to defend his priest, John Urell, a Diocese of Orange bigwig who had long shielded pedophile priests from the law. Cunningham re-emerged last year to start a new blog funded by the Anaheim Chamber of Commerce with the sole purpose of tarring Anaheim Mayor Tom Tait and activists trying to reform the corrupt town. When he's not trashing attempts at democracy, Cunningham hails the status quo and whines that Republicans aren't paying attention to Anaheim, which only proves how influential he truly is. Did we mention he outed sex-abuse victims? Mitigating factor: He inspired two of the greatest nicknames in OC blogging history—"Jerbal," for his Baba Booey-like chompers, and "Fart Boy," because his ethics are as smelly as a juicy ripper.
KRIS MURRAY
Anaheim's Boss Bitch, Kris Murray went from unknown Curt Pringle puppet to prominent Curt Pringle puppet long before the city burned last summer in riots that made national headlines. Serving as a proxy for OC's eternal Dark Lord, Murray formed a council coalition opposing Mayor Tom Tait (a longtime Pringle ally until the two split under mysterious circumstances) at every turn, from massive hotel-developer subsidies to public calls for police reform to sweetheart proposals to the Angels to an ACLU lawsuit seeking district elections. After a sham committee she prepared to study electoral issues offered a surprise deadlock recommendation that single-member districts go before Anaheim voters, Murray ignored the notion, opting instead for at-large district elections, a proposal as ludicrous as her claims Pringle has no influence on her. She has taken every opportunity to throw her political weight around, no matter how meritless or low the exercise in power may be. Mitigating factor: Her piercing, ocean-blue eyes . . .
LOU CORREA
When federal officials recently announced they would tolerate the sale of marijuana in states that had well-regulated marketplaces, their bold new policy was a tribute to the leadership of politicians in Colorado and Washington. California, on the other hand, isn't yet covered by this mandate. The reason: weak-kneed, feckless hacks in Sacramento who prefer to sit on their hands rather than figure out a way to protect the rights of citizens covered by the 17-year-old Compassionate Use Act. Then there's Lou Correa, the Democratic state senator from Santa Ana who's even worse. Earlier this year, he introduced a totally useless, scaremongering law that only the police could love; Senate Bill 289 would make it illegal to drive with any detectible amount of marijuana in your system. Translation: smoke a joint and get pulled over the next morning, and you'd be breaking Correa's stupid law. Mitigating factor: Correa's colleagues in the state Legislature refused to go along with his knuckle-headed plan.
AARON KUSHNER
Have you ever watched someone being interviewed on television that clearly has no meaningful grasp of the topic? Regardless of the pending question, this interviewee expertly regurgitates marketing-department prepared lines with fake sincerity. That has been the m.o. of Aaron Kushner, the public face of a secretive business entity that purchased Freedom Communications Inc. and its flagship Orange County Register in 2012. It's one thing for a corporate flack for, say, a real-estate-development firm to utter nonsense to inquiring reporters. But it's another, more problematic thing when the empty suit is the leader of a media empire of more than 30 publications. It's even worse that Kushner, whose prior experience in journalism was buying an established greeting-card company, seems to think his carefully manufactured utterances equal facts. Adding free tickets to Angels games, cocktail party-like pictures and saccharine reports of churches, clubs and high-school sports doesn't push the paper into the "great" journalism category worthy of a complete paywall that even The New York Times or Washington Post don't dare. Perhaps what's most frightening is that so many otherwise-clear-headed reporters have cheapened their bylines by leaping on the Kushner bandwagon. Mitigating factor: A profile we wrote on him won us Best Business Story awards from both the OC and LA Press Clubs.
Who else would I add to a list of Orange County's Scariest Politicians?
How about these fine folks:
The entire Santa Ana City Council: They fired a decent City Manager and then overpaid an import from Phoenix – explaining that this was OK because he is a Latino. So lame!  That City Manager raised food taxes in Phoenix to balance the books.  How soon before he tries to raise taxes in Santa Ana?
The entire SAUSD School Board (except for Ceci Iglesias) – They hired a new Superintendent who is older than dirt and overpaid him too – except for Ceci Iglesias who voted against this. Can you say pension spiking?
Click here to read the rest of this article.