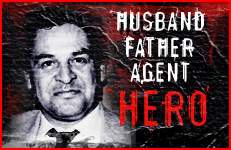 Santiago Elementary School Honors Red Ribbon Week with family members of Enrique "KiKi" Camarena
Special Agent Whose Death Spurred National Attention to Establish this Week to Promote a Drug-Free Environment
THE EVENT: Santiago Elementary School is proud to host a Red Ribbon Week school-wide assembly on Monday, October 28, 2013 in which the family of Enrique "KiKi" Camarena, the Special Agent who was killed while working undercover on a multimillion dollar drug investigation and whose death spurred the creation of Red Ribbon Week, will be the school's guests of honor. Students will hear from the mother and sister of the late Mr. Camarena, and two Special Agents from Drug Enforcement Administration (DEA).
WHEN: Monday, October 28, 2013, at 1:15 p.m.
WHERE: Santiago Elementary School
2212 N. Baker St.
Santa Ana, CA 92706
VISUALS: Event will include:
Photo opportunities of Santiago School students, staff, and parents
Photo opportunities and address from Mrs. Dora Camarena, mother of Enrique "KiKi" Camarena and Ms. Lourdes Camarena, sister
Aida Valdez – Kik's cousin will be translating for Dora Camarena
Angela Kramer-Valdez – Kiki's niece (daughter of Aida Valdez)
Jon S. Goldberg, Assistant Special Agent, DEA Speaker
Maria D. Zavala, Special Agent, DEA
CONTACT: Deidra Powell, Chief Communications Officer – Santa Ana Unified School District at
(714) 558-5555 desk or (714) 673-4995 cell
###