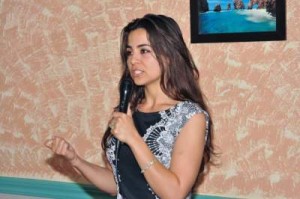 Karina Onofre didn't win when she ran for the Santa Ana City Council last year, but while her opponent at the time, Roman Reyna, is now struggling with a massive city budget deficit and is being questioned about what he did as a member of the SAUSD's School Board, which is also having deficit problems, Onofre is busy building a grassroots organization based in educating the local community.
Onofre has been hosting seminars at her office, in Santa Ana, on subjects including immigration and jobs and is now planning to host another seminar on the subject of education, on Wednesday, June 12, at 7pm, at 726 S. Main St., in Santa Ana.  There is a good chance that State Senator Bob Huff will be their guest speaker.  He is the leader of the California Republican Party's State Senate delegation.
In case you're wondering how her last seminar went, in May, she had over 70 people in attendance to listen to:
Crystal Lynn, of "Women Helping Women/ Men 2 Work," a non-profit organization that specializes in helping people find jobs.  She spoke about their spectrum of workshops and how they help to dress their clients from head to toe so that they can feel more confident about themselves and facilitate their path to employment.
Lori Coelho, a District Manager for H&R Block, and Karina Martinez, an H&R Block Community Ambassador also were present, and they spoke about the many career opportunities with their national income tax corporation.  They also mentioned the H&R Block tax courses and the fact that they offer financial assistance to those that qualify.
Melissa Vasquez with Diverse Staffing Solutions, a national employment agency owned by a local and prominent Latino, Fred Flores, shared her inspiring story of self-made success.
OC Department of Education Trustee Robert Hammond, who is a Marine Veteran, offered an alternative to finding a job by enrolling in the U.S. Armed Forces.  He also mentioned the priceless opportunities that Latinos who are fluently bilingual have in the national armed services, with more possibilities of promotion and higher pay..and also gave advise to the parents and students present, about making sure they graduate with a high school Diploma rather than a GED because come September of 2013, they will not allow GED graduates to join, and will make it impossible to ever become a Sargeant for those with a FICO score below 650.
Mike Dalati informed the audience that as an Enrolled Agent and Santa Ana School Board District candidate 2014, he has personally been teaching tax prep classes for the last three years and they are given here at the office on 726 S. Main St.
Others who were at the May seminar include Arturo Garcia, Senate Republican Leader Bob Huff's District Representative, Christine Bronstein and Dr. Ron Smith representing the Lincoln Club, John Warner and Bill Dunlap representing the OCGOP, and also Manny Padilla with the Lincoln Club.  Onofre was also grateful that Teresa Hernandez, with the Lincoln Club, was able to provide a generous stipend to use for food/drinks.
Onofre tells me that her seminars are becoming a bridge between the resources out there and our community. People are realizing that her seminars are biweekly, valuable, and at the same time, same location – and Onofre provides pizza and drinks to the attendees.