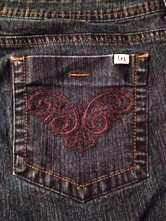 Orange County Sheriff
NEWS, FOR IMMEDIATE RELEASE
Contact: Lt. Jeff Hallock, 714.904.7042, JHallock@ocsd.org
SPECIAL BULLETIN: ATTEMPT TO IDENTIFY DECEASED MALE FOUND IN GARDEN GROVE
The Orange County Sheriff-Coroner Department, along with the Garden Grove Police Department, is attempting to identify a person found dead on Monday, December 1, 2014. The body was found in the water channel near Magnolia Street and Orangewood Avenue in the city of Garden Grove.
The deceased male is approximately 5 foot, 4 inches tall. He was wearing LEI jeans with a patterned pocket (see photo above-attached) and black Vans sneakers (size 9). Coroner investigators believe the subject had been dead for some time; however, there is limited information and no facial photo or sketch is available.
Anyone with information regarding the identity of this subject is asked to call Orange County Sheriff-Coroner Department Coroner Division or Garden Grove Police Department Detective Maciel at the numbers provided below.
NAME: Unknown
DESCRIPTION: Male, approximately 5'4''
CLOTHING: "LEI" jeans, black Vans sneakers (size 9
# # #