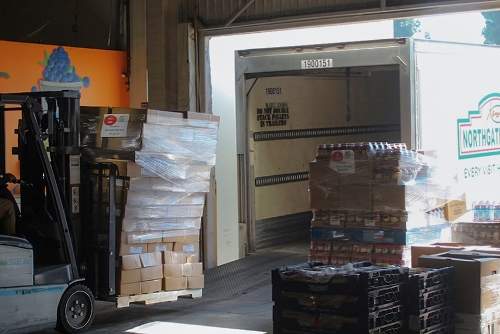 Food Provides Vital Lifeline as Impact of COVID-19 Pandemic Continues
GARDEN GROVE, Calif., (November 12, 2020) — Community Action Partnership Orange County (CAP OC), which operates the OC Food Bank and provides support to low-income families and individuals, has partnered with Northgate Gonzalez Market this month as part of its "2 Ways 2 Save" in-store campaign. The partnership resulted in a total of 12,000 pounds of food delivered to the OC Food Bank, which is operated by CAP OC, on October 29 thanks to community members who donated more than $85,000 across 41 Northgate Gonzalez Markets.
"We are grateful for the support Northgate Gonzalez Markets has shown us, especially this year as food banks across the nation have seen a tremendous increase in need due to the pandemic," Gregory C. Scott President and CEO CAP OC said. "When the community comes together to help one another, we are helping provide hope for individuals and families in need. Which is more important than ever."
Thousands of working families throughout Orange County have lost a steady source of income due to the economic turmoil brought on by the COVID-19 pandemic. With unemployment remaining high, the need for food assistance at CAP OC Food Bank has increased as much as 412%. The Food Bank provided three times the amount of food to hungry Orange County families in August 2020 compared to the same time last year. From April through June CAP OC paid $481,686 in gas and electric bills and in Santa Ana alone, dispensed more than $99,000 in rental assistance to 66 households.
CAP OC leverages an extensive partner network to serve those with immediate needs and to empower communities. For people in crisis, the organization provides solutions for survival through its diaper bank, food bank and utility and rental assistance programs. To empower communities, it advocates for equality in healthcare, racial justice, education and employment; offers education and youth empowerment programs and supports families through its Family Resource Centers, which integrate child, workforce and family development tools and strategies to create lasting change through generations of families.
The Coronavirus has wreaked havoc on so many things: on public health, on economic stability and obviously on food insecurity," says Northgate Market Co-President Miguel González.
About CAP OC
Born out of the War on Poverty more than 50 years ago, Community Action Partnership Orange County (CAP OC) a trusted resource for Orange County community members face obstacles such as food insecurity, unemployment, economic turmoil and more. CAP OC serves as a catalyst for creating vibrant communities by stabilizing and empowering people with the resources they need when they need them through a multi-faceted programmatic approach. CAP OC programs and services include the CAP OC Food Bank, diaper bank, utility and rental assistance, financial empowerment, workforce development, family resource centers and more. The nonprofit strives to enhance the quality of life in Orange County by working with a network of community partners to address the root causes of poverty and advocate for reform to one day see a world where poverty ceases to exist.