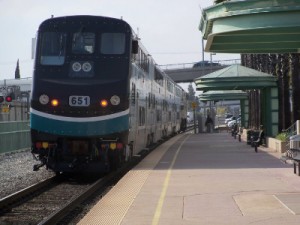 FOR IMMEDIATE RELEASE: June 24, 2014
FOR MORE INFORMATION: Joel Zlotnik (714) 560-5713; Eric Carpenter (714) 560-5697
Summer Kicks Off with Added Metrolink Weekend Service, Chance to Win Prizes with New Promotion
91 Line will add two round trips on Saturdays and Sundays starting July 5; Seven Summer Treasures promotion runs through Sept. 1
ORANGE – Summer is upon us and the Orange County Transportation Authority and Metrolink are offering two reasons to hop aboard a Metrolink train this season with added service and a new promotion.
New weekend Metrolink service between Riverside, Orange County and Los Angeles begins July 5.
The new Metrolink service on the 91 Line will offer weekend trains from Downtown Riverside to Los Angeles, with stops along the way at La Sierra, North Main Corona, West Corona, Fullerton, Buena Park and Norwalk.
The service offers riders access to attractions near Orange County stops such as downtown Fullerton and Knott's Berry Farm. Heading into L.A.'s Union Station, riders can transfer to the Red, Purple, Expo or Gold lines for access to attractions such as the Hollywood Walk of Fame, Universal Studios, Old Town Pasadena and others.
The first weekend train leaves Downtown Riverside at 7:40 a.m. and the last return train stops there at 8:55 p.m. For a complete schedule, visit metrolinktrains.com.
And now through Sept. 1, Metrolink riders in Orange County are encouraged to visit Southern California locations through the Seven Summer Treasures promotion and enter for a chance to win a family four-pack of Disneyland Resort Park Hopper tickets, Metrolink passes and hundreds of other prizes.
Seven Summer Treasures encourages riders to visit seven stops worth the trip near Metrolink stations in Los Angeles, Fullerton, Anaheim, Orange, San Juan Capistrano, San Clemente and Oceanside.
For more information, visit metrolinktreasures.com where you can also enter a drawing. Ten weekly winners will receive two Metrolink round-trip tickets and two passes to Zoomars Petting Zoo in San Juan Capistrano. A grand-prize drawing will be held after the drawing closes on Sept. 1 for the four Disneyland Park Hopper tickets and four Metrolink passes.
Metrolink riders are also being encouraged to share photos of their trips on social media using the hashtag #Metrolink7. Weekly winners will be selected and awarded prizes donated by OCTA partners.
# # #