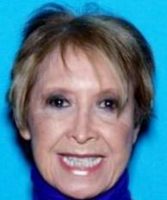 Santa Ana Police Department
Advisory: UPDATE: MISSING PERSON LOCATED AT A MEDICAL REHABILITATION CENTER IN GARDEN GROVE
On 08/10/2016 SAPD Detectives were contacted by a medical rehabilitation center in Garden Grove in response to our Silver Alert. Missing Carolyn Monty was sent there by the hospital for treatment for injuries she received from a fall. Detectives have contacted her and are giving her a ride back home today.
– ORIGINAL MESSAGE –
Missing Person: Carolyn Monty (Santa Ana)
Description: 82 year-old female, Caucasian, 5'05, 105 lbs., Light Brown Hair, Brown Eyes.
Last seen: On 8/3/16, at 1030 a.m. 1030 W. MacArthur Blvd. Santa Ana.
Synopsis: Carol Monty was last seen on 8/3/16, she told a neighbor she had fallen from a ladder and was going to seek medical attention. She walked toward the security gate toward Bristol St. and has not been seen or heard from since. Carol frequents the merchants in the area of South Bristol St.
Please contact Santa Ana Police Missing Persons Investigator Velarde-Reyes at (714) 245-8393, Watch Commander at (714) 245-8701 or Dispatch at (714) 834-4211.